5-Minute Niçoise Salad with Lemon Dilly Vinaigrette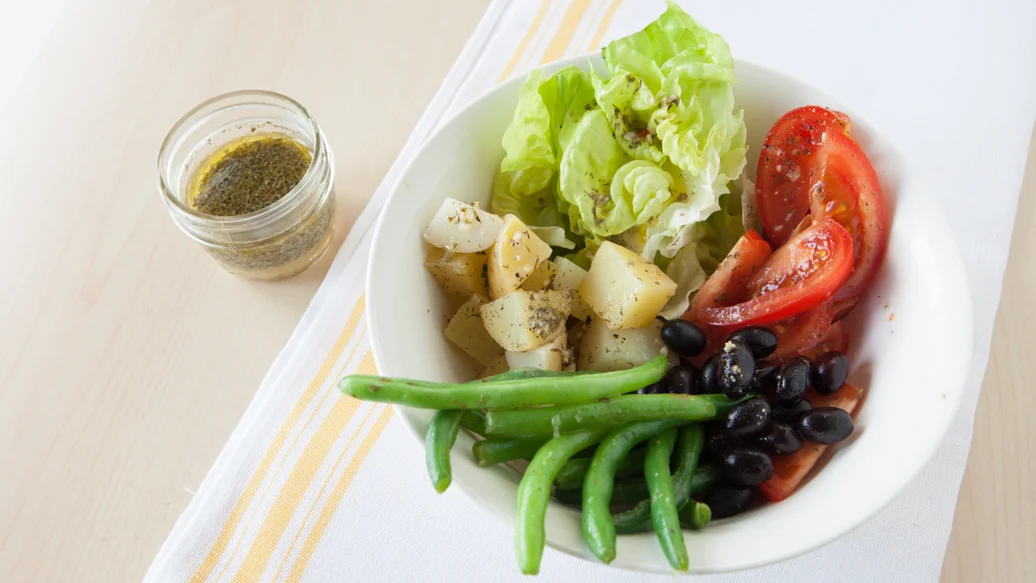 10 min
2 servings
$2.35/serving
Ingredients
2 medium potatoes, chopped
1⁄8 tsp Sea Salt, or to taste
1⁄8 tsp Black Pepper, or to taste
1 cup green beans
2 small tomatoes, quartered
2 cups mixed greens, chopped
2 tbsp Niçoise olives, optional
1 can (6 oz/170 g) light tuna, packed in water, drained
1 hard-boiled egg, sliced, optional
Preparation
Place potatoes in Rectangular Steamer and season with Salt and Pepper.
Cover with lid and microwave on high for 3 minutes.
Remove lid, then top with green beans. Cover and microwave for 2 more minutes, until beans are tender.
Arrange potatoes, green beans, tomatoes, lettuce, and olives on a plate or in a bowl. Drizzle with Lemon Dilly Vinaigrette.
Nutritional Information
Per serving: Calories 510, Fat 9 g (Saturated 1.5 g, Trans 0 g), Cholesterol 0 mg, Sodium 370 mg, Carbohydrate 76 g (Fibre 11 g, Sugars 9 g), Protein 36 g.