Thai Sweet and Sour Cucumber Salad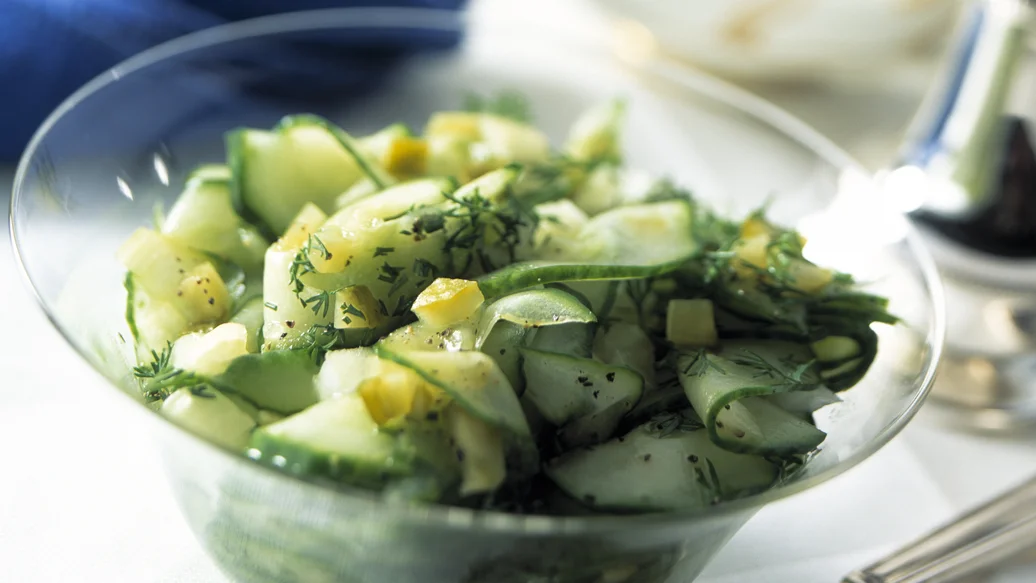 10 min
4 servings
$1.85/serving
Ingredients
2⁄3 cup rice or apple cider vinegar
1 tsp Thai Seasoning
1⁄3 cup water
1 tsp Sea Salt, coarsely ground
1⁄2 cup sugar
2 kaffir lime leaves
1 large cucumber, peeled, cut in half and thinly sliced
1⁄2 small red onion, finely diced
1⁄4 cup freshly chopped cilantro, optional
1⁄3 cup coarsely chopped salted peanuts
Preparation
Whisk vinegar, Thai Seasoning, water, Sea Salt, sugar and kaffir lime leaves together in Multipurpose Pot - 8 cup.
Bring to boil, stirring to dissolve sugar. Reduce heat to medium and simmer until reduced by half. Remove from heat, discard kaffir lime leaves and set aside to cool.
Combine cucumbers, red onion and half the cilantro in serving bowl.
Drizzle with dressing and toss to coat. Garnish with remaining cilantro and chopped peanuts. Serve immediately.
Nutritional Information
Per serving: Calories 210, Fat 6 g (Saturated 1 g, Trans 0 g), Cholesterol 0 mg, Sodium 670 mg, Carbohydrate 38 g (Fibre 2 g, Sugars 31 g), Protein 4 g.