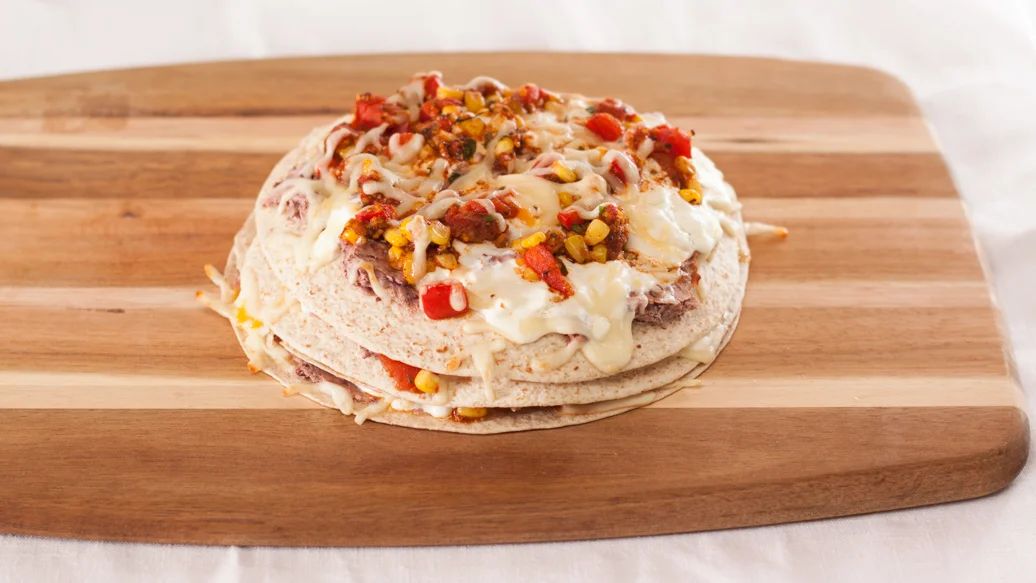 20 - 25 min
8 servings
$2.05/serving
Leftovers make a perfect lunch the next day.
Ingredients
1 cup bell pepper
2 tsp vegetable oil
1 cup canned corn
1⁄3 cup light sour cream
1 cup light ricotta or cottage cheese
1 cup partly-skimmed mozzarella cheese
1⁄4 cup light cream cheese
4 (10 in/25 cm) whole-grain tortillas
2 cups kidney beans
Preparation
Preheat oven to 375° F (190° C).
Sauté pepper in oil in frying pan over medium heat. Stir in 3 Onion Dip Mix, corn, Salsa, Taco Seasoning and Minced Garlic, heating thoroughly. Remove from heat and set aside.
In a separate bowl, combine sour cream, ricotta, mozzarella and cream cheese. Set aside.
Place 1 tortilla in the bottom of a spring form pan or on Epicure's parchment-lined Sheet Pan. Layer with a third of the vegetable mixture, cheese mixture and beans. Top with another tortilla and repeat.
Bake for 10-15 minutes.
Nutritional Information
Per serving: Calories 270, Fat 8 g (Saturated 3.5 g, Trans 0 g), Cholesterol 20 mg, Sodium 390 mg, Carbohydrate 35 g (Fibre 7 g, Sugars 5 g), Protein 13 g.