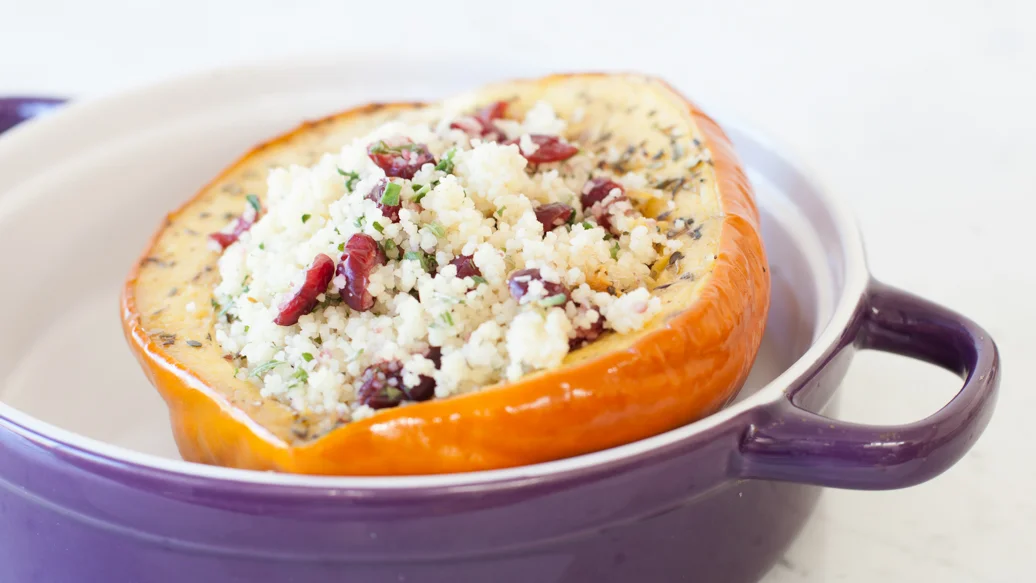 40 min
4 servings
$1.57/serving
Acorn squash is an awesome, cozy carb to reach for in the wintertime! It's low in calories but high in nutrients and fibre. With your Multipurpose Steamer, it's quick and easy to prepare, and eliminates the need for all the oil and butter typically used in roasted squash recipes. Bright flavours of rosemary and garlic compliment the subtle sweetness of the squash for a savoury dish perfect for the holiday season.
Perfectly Balance Your Plate
Serve with 4 oz (113) lean protein and 2 cups leafy greens with 1 tbsp Epicure Dressing.  
Ingredients
1 acorn squash
Sea Salt, to taste
Black Pepper, to taste
2⁄3 cup couscous
3 tbsp sun-dried cranberries
2⁄3 cup boiling water
1 tbsp olive oil
Preparation
Preheat oven to 350° F. Line Sheet Pan with Sheet Pan Liner. 
Cut squash lengthwise in half; remove seeds and centre fibres. Sprinkle with 1 tsp seasoning, salt, and pepper.
Place squash cut-side down in Multipurpose Steamer. Cover and microwave on high for 15 minutes. 
Meanwhile, in a medium bowl, cover couscous and sun-dried cranberries with boiling water and let stand 5 minutes. Stir in olive oil, 3 Onion Dip Mix, and remaining seasoning.
Place squash on Sheet Pan. Heap and press filling into the centre of each squash half.
Bake, covered with aluminum foil, for 15 minutes.
Nutritional Information
Per serving: Calories 210, Fat 4 g (Saturated 0.5 g, Trans 0 g), Cholesterol 0 mg, Sodium 10 mg, Carbohydrate 41 g (Fibre 4 g, Sugars 4 g), Protein 5 g.