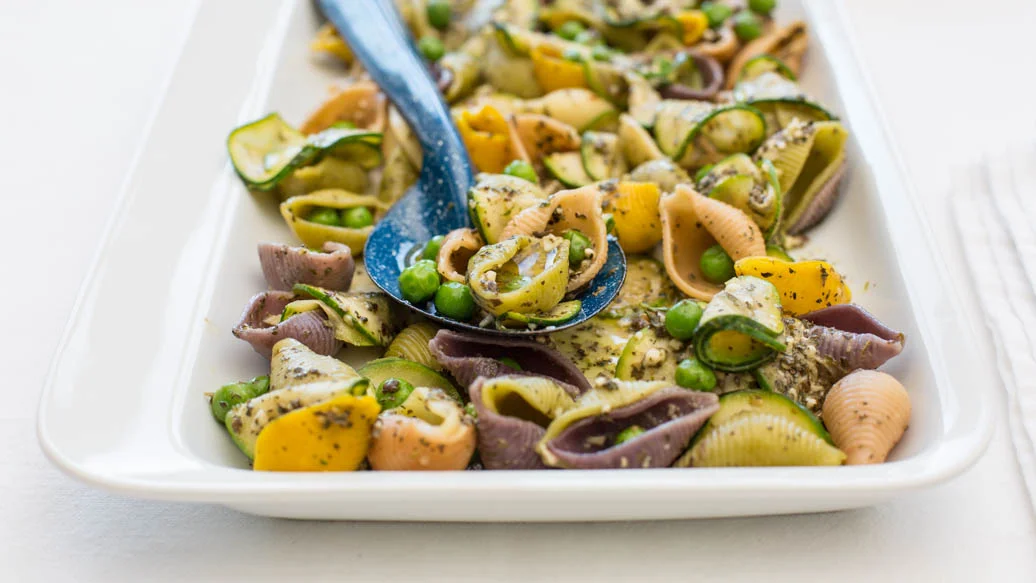 25 min
4 servings
$2.80/serving
Ingredients
1 lb (450 g) spinach fettucine
1⁄4 cup olive oil
1⁄4 cup Parmesan cheese
3 tbsp finely chopped pine nuts or pistachio nuts
1 small zucchini, thinly sliced
1 cup green peas
Sea Salt, to taste
Black Pepper, to taste
1⁄2 cup grated Parmesan cheese
Preparation
Cook pasta according to package directions.
While pasta is cooking, mix together Pesto Sauce Mix, olive oil, Parmesan cheese and nuts. Heat in a frying pan.
Add sliced zucchini, green peas and prepared Vegetable Bouillon and bring to a boil.
Immediately add drained pasta and stir to coat. Season with Sea Salt and Pepper.
Serve with Parmesan cheese.
Nutritional Information
Per serving: Calories 550, Fat 11 g (Saturated 3.5 g, Trans 0 g), Cholesterol 10 mg, Sodium 100 mg, Carbohydrate 92 g (Fibre 8 g, Sugars 7 g), Protein 25 g.