New-tella Breakfast Bites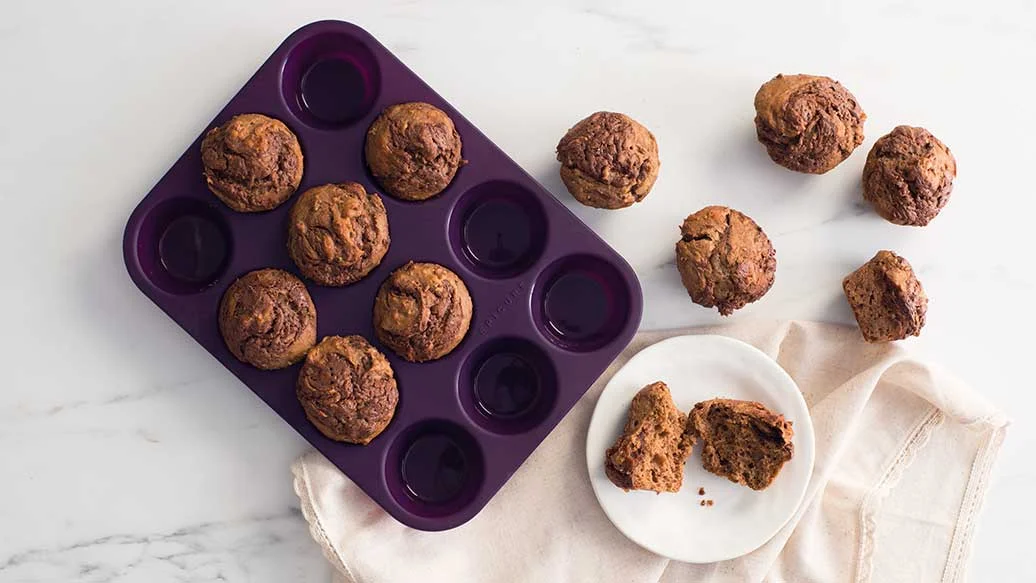 35 min
20 muffins
$0.50/serving
Perfectly Balance Your Plate
Enjoy with a 2-cup serving of the Smoothie of your choice.
Ingredients
3 bananas
1 1⁄2 cups all-purpose flour
1 scoop Cocoa Açai Smoothie Booster, or cocoa
1⁄2 cup brown sugar, loosely packed
1 tsp baking powder
1⁄2 tsp baking soda
2 eggs
1⁄2 cup milk or dairy-free alternative
1⁄2 cup vegetable oil, or coconut oil or butter, melted and cooled
1 tsp vanilla extract
Preparation
Slice unpeeled bananas in half lengthwise; place peel-side down on a Sheet Pan lined with a Sheet Pan Liner. Broil until lightly charred, about 6 min. Reduce heat to 350° F. Brush a muffin pan with vegetable oil and place on the Sheet Pan. 
Whisk together next eight ingredients. Scrape flesh from bananas into a separate bowl; mash. Mix in eggs, then milk, oil, and vanilla. Pour over flour mixture; stir until just moistened. 
Spoon 2 heaping tbsp of batter into muffin cavities and spoon 1⁄2 tsp DIY New-Tella on top of each. Using a toothpick, swirl into muffin batter. Bake for 18–20 min.
Nutritional Information
Per serving: Calories 70, Fat 2.5 g (Saturated 0 g, Trans 0 g), Cholesterol 9 mg, Sodium 65 mg, Carbohydrate 9 g (Fibre 1 g, Sugars 6 g), Protein 6 g.
Tips
Try mixing in 1⁄2 cup chopped nuts, raisins, or shredded coconut for tasty variations. 
Make ahead for those busy days when you need a grab-and-go emergency meal.