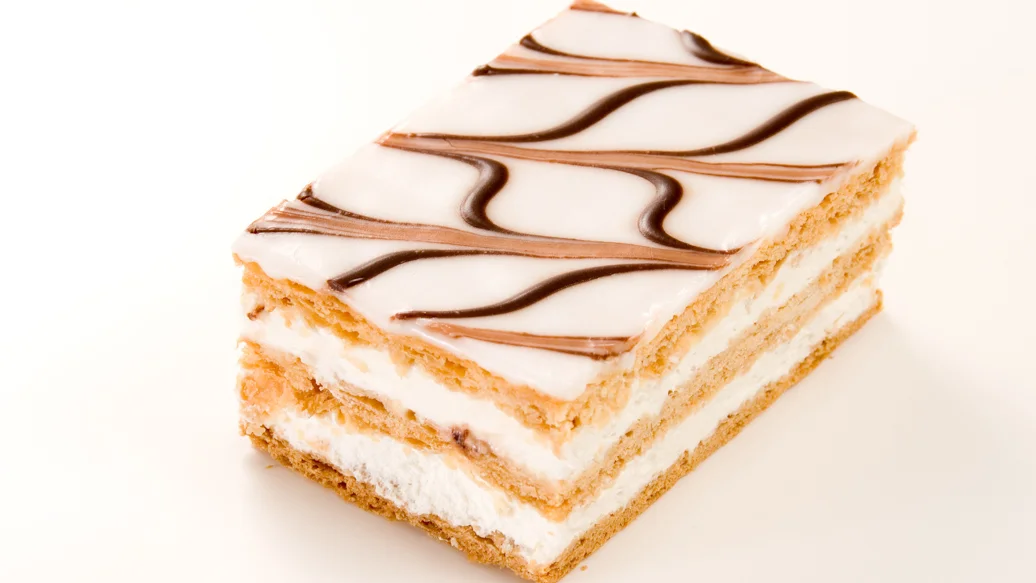 55 min
4 servings
$1.51/serving
Ingredients
VANILLA CUSTARD
1 cup milk
1 tsp vanilla extract
2 tbsp sugar
2 tbsp cornstarch
2 egg yolks
1 cup whipping cream
PASTRY
1⁄2 package (397 g/14 oz) frozen puff pastry
GLAZE
3 tbsp icing sugar
1 tbsp warm water
1⁄4 cup dark Belgian chocolate
Preparation
VANILLA CUSTARD
Heat milk and Vanilla Extract in Multipurpose Pot - 8 cup over medium heat until steamy, but not boiling. Remove from heat. 
Whisk sugar and cornstarch in a medium mixing bowl. Whisk in yolks until well blended.
Slowly whisk milk mixture into egg mixture. Pour back into pot and return to heat. Stir constantly, until mixture thickens and coats the back of a spoon, 6–8 minutes. Do not boil. Pour into a clean bowl and refrigerate until chilled. 
Whip cream until stiff peaks form. When custard is cool, gently fold in whipped cream. 
PASTRY AND GLAZE
Preheat oven to 375° F (190° C).
Line Sheet Pan with parchment paper. Roll out puff pastry on a lightly floured surface to 1⁄4" thickness. Cut into 8 squares and place on baking sheet. Chill for 10 minutes. Using the tines of a fork, prick several holes in pastry. 
Cover pastry with another sheet of parchment paper and place another baking sheet on top to weigh down the pastry. 
Bake for 10 minutes. Remove top baking sheet and parchment. Continue to bake for 15 minutes, or until golden brown. Set aside to cool. 
Prepare glaze by whisking icing sugar and water until dissolved. Brush onto 4 of the 8 pastry squares.
Melt dark Belgian chocolate in a chocolate decorator. Draw 3 lines of chocolate horizontally across each of the 4 glazed pastry squares. Using a toothpick, draw a line through the chocolate creating a wavy decorative design. 
ASSEMBLY AND SERVING
When ready to serve, place 4 plain pastry squares on a serving platter. 
Using a large spoon, dollop custard onto each square. 
Cover with decorated lids and press down gently. Enjoy!
Nutritional Information
Per serving: Calories 670, Fat 48 g (Saturated 22 g, Trans 0 g), Cholesterol 185 mg, Sodium 180 mg, Carbohydrate 51 g (Fibre 2 g, Sugars 24 g), Protein 9 g.
Tips
Creative Cooking: No puff pastry? No problem! Use graham crackers or gingersnaps instead.
Chef Tip: Traditional Napoleons have many layers of pastry and custard. Epicure's version is a quickie shortcut with 2 layers. To make more layers, cut puff pastry into 16 smaller squares instead of 8. Thinly spread layers with custard and stack.
Preparation Tip: Epicure's Vanilla Custard can be replaced with store-bought vanilla pudding.