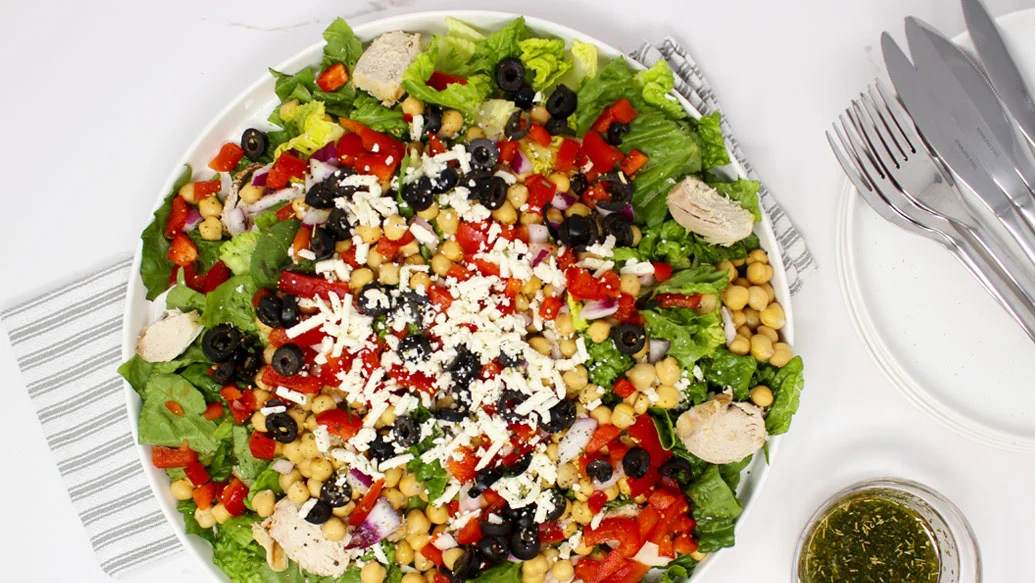 15 min
4 servings
$3.69/serving
This is a great, cost-effective recipe to help you stretch your food dollar. Med-style eating consists of eating less meat and adding in plant-based protein, like beans.
Perfectly Balance Your Plate
This is a perfectly balanced meal.
Ingredients
1 tbsp extra virgin olive oil
1 chicken breast, sliced
1 tbsp red wine vinegar
1⁄4 cup extra virgin olive oil
8 cups romaine lettuce, chopped
1 cup light feta cheese
1 cup cherry tomatoes
1⁄4 cup sliced black olives, drained and rinsed
1 small red onion, chopped
1–19 oz can chickpeas, drained and rinsed
Preparation
In a Saute Pan set over medium-high heat, add oil and chicken; cook on high for 4–6 min, until cooked. Set aside.
In a small mixing bowl, combine salad dressing ingredients. Set aside.
On a large platter, assemble salad and top with chicken and chickpeas; drizzle with dressing. Enjoy!
Nutritional Information
Per serving: Calories 470, Fat 28 g (Saturated 8 g, Trans 0 g), Cholesterol 55 mg, Sodium 520 mg, Carbohydrate 40 g (Fibre 8 g, Sugars 6 g), Protein 22 g.