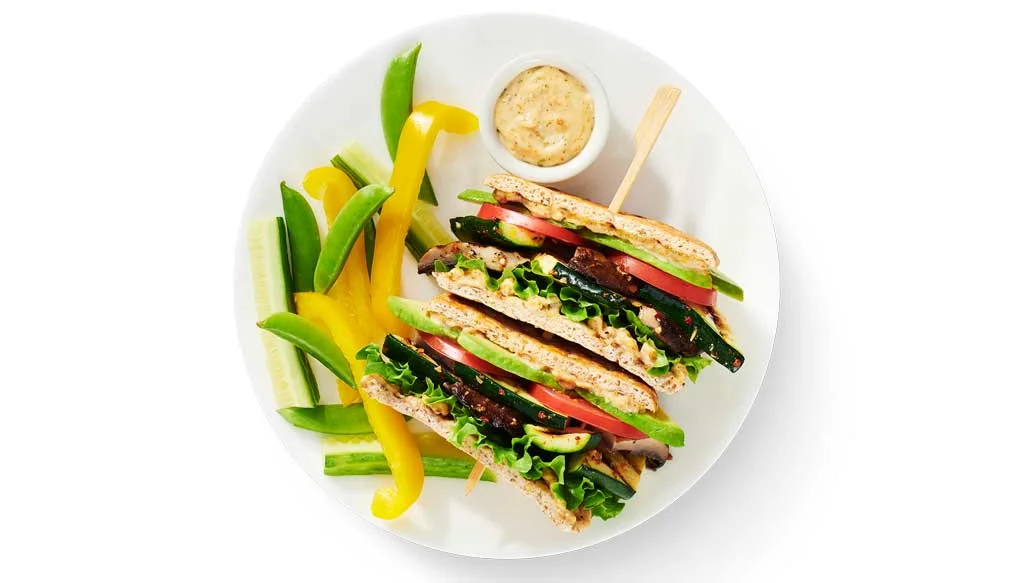 20 min
4 servings
$3.66/serving
The high temperature of the grill transforms vegetables and gives them a smoky, almost caramelized flavour. An easy & delicious way to make your plate 1⁄2 veggies for a fiber and antioxidant boost!
Perfectly Balance Your Plate
Serve with 1⁄2 cup lean protein such as canned tuna, chicken, mashed chickpeas, or smoked tofu.
Ingredients
Big Burger Sauce
1⁄4 cup mayonnaise
1⁄2 tbsp ketchup
1 tsp relish
Sandwich
4 portobello mushrooms
1 large zucchini
1 tbsp oil
2 tomatoes
1 avocado
8 lettuce leaves
8 slices whole wheat bread
Preparation
For the sauce, in a bowl combine mayonnaise with sauce mix, ketchup and relish. Set aside. 
Preheat grill to medium-high. 
Remove stems and scrape gills from mushrooms. Slice zucchini lengthwise into long strips. Brush each with oil and sprinkle evenly with seasoning. Thinly slice tomato and avocado; set aside. 
Place mushrooms and zucchini on grill. Grill, turning often until lightly charred and tender, about 8 min. Move pieces  to a cutting board when done. 
To assemble sandwiches, coarsely chop mushrooms and zucchini. Spread bread with Big Burger Sauce; top 4 slices with lettuce, grilled veggies, tomato, and avocado. Cover with top pieces of bread. Cut in half and serve. 
Nutritional Information
Per serving: Calories 350, Fat 17 g (Saturated 2.5 g, Trans 0 g), Cholesterol 5 mg, Sodium 420 mg, Carbohydrate 41 g (Fibre 10 g, Sugars 9 g), Protein 13 g.
Tips
Add more protein to your sandwich by adding tuna or leftover cooked, chopped chicken.