Greek Potato Moussaka - Beef or Lentil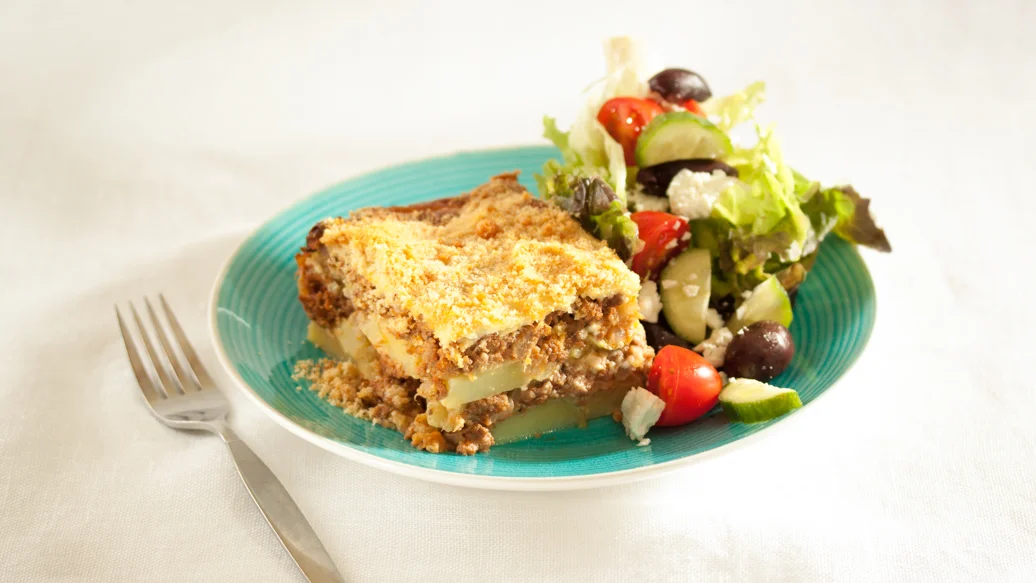 1 1/2 hrs
6 servings
$2.15/serving
Wow family and friends with this restaurant favourite made at home.
Perfectly Balance Your Plate
Serve with Classic Greek Salad made with Epicure Greek Dressing.
Ingredients
7 medium potatoes
1 tbsp olive oil
1 large onion
1 3⁄4 lbs (775 g) lean ground beef, or 2 cans lentils, drained and rinsed
1 can (5.5 oz/163 ml) tomato paste
3⁄4 cup water
Sauce:
4 large eggs
1⁄4 cup butter
1⁄4 cup flour
2 cups milk
1⁄2 cup grated Parmesan cheese
Preparation
Preheat oven to 375° F (190° C).
Peel potatoes. Slice 1⁄8" thick and place in bowl of cold water.
Heat oil in Multipurpose Pot and sauté onion until softened. Add beef, and brown until no longer pink (or add lentils at this time). Drain excess beef fat from pan.
Add remaining ingredients and simmer, uncovered, for 5 minutes. Set aside.
To make sauce, whisk eggs until frothy.
Melt butter in Multipurpose Pot - 8 cup. Add flour and stir until absorbed.
Gradually add milk, stirring constantly until sauce thickens.
Remove from heat. Whisk small amount of sauce into beaten eggs (this tempers eggs to prevent curdling).
Stir egg mixture back into pot with rest of sauce until combined. Blend in Salt, Pepper and Parmesan.
Lightly spray a 9" x 13" baking dish with vegetable oil.
To assemble, drain potatoes, then arrange half the slices on bottom of pan. Sprinkle lightly with Salt and Pepper.
Pour half of the sauce over potatoes. Spread meat or lentil mixture over sauce.
Layer remaining potatoes overtop. Sprinkle again with Salt and Pepper. Pour remaining sauce over all.
Bake for 1 hour, or until potatoes are tender and top is browned.
Nutritional Information
Per serving: Calories 730, Fat 23 g (Saturated 10 g, Trans 1 g), Cholesterol 230 mg, Sodium 780 mg, Carbohydrate 92 g (Fibre 10 g, Sugars 10 g), Protein 43 g.
Tips
Baked Moussaka freezes well. Thaw and reheat at 400° F (205° C) for 40 minutes.