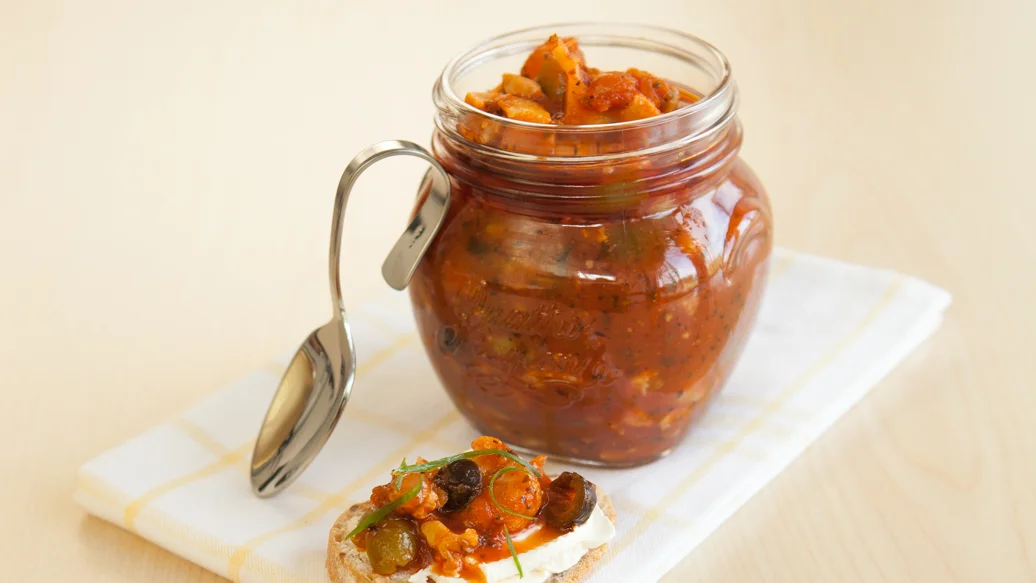 This Italian appetizer makes an amazing first course and a special from-the-kitchen gift!
Ingredients
1 large cauliflower, cut into bite-sized pieces
2 large green peppers, chopped
2 cans (10 oz/284 ml) sliced ripe olives
1 jar 16 oz (450 ml) green olives with pimento, drained and coarsely chopped
2 jars (13 oz/370 ml) pickled onions, drained and coarsely chopped
2 cans (10 oz/284 ml) mushrooms, stems and pieces
6 cups tomato ketchup
1 jar (14oz/398 ml) bottle chili sauce
1 cup olive oil
crushed chilies, to taste
Black Pepper, coarsely ground, to taste
Preparation
Combine all ingredients in Multipurpose Pot. Simmer slowly for 20 minutes, stirring frequently. Ladle Antipasto into 18 — 8 oz (237 ml) sterilized jars and apply new lids.
To process, place jars on rack in large canning kettle. Add water 3⁄4 of the way up jars. Cover pot with a lid and bring water to a boil. Simmer for at least 20 minutes. Let cool. Tighten lids after they "pop" and store in a cool, dark place. The "popping" sound is made when processed jars begin to cool and a vacuum is created for an airtight seal.
Nutritional Information
Per serving (2 tbsp): Calories 30, Fat 2 g (Saturated 0.3 g, Trans 0 g), Cholesterol 0 mg, Sodium 170 mg, Carbohydrate 4 g (Fibre 0 g, Sugars 3 g), Protein 0.5 g.
Tips
Serve with crostinis and an assortment of cheese.