Pulled Pork Banh Mi Sandwich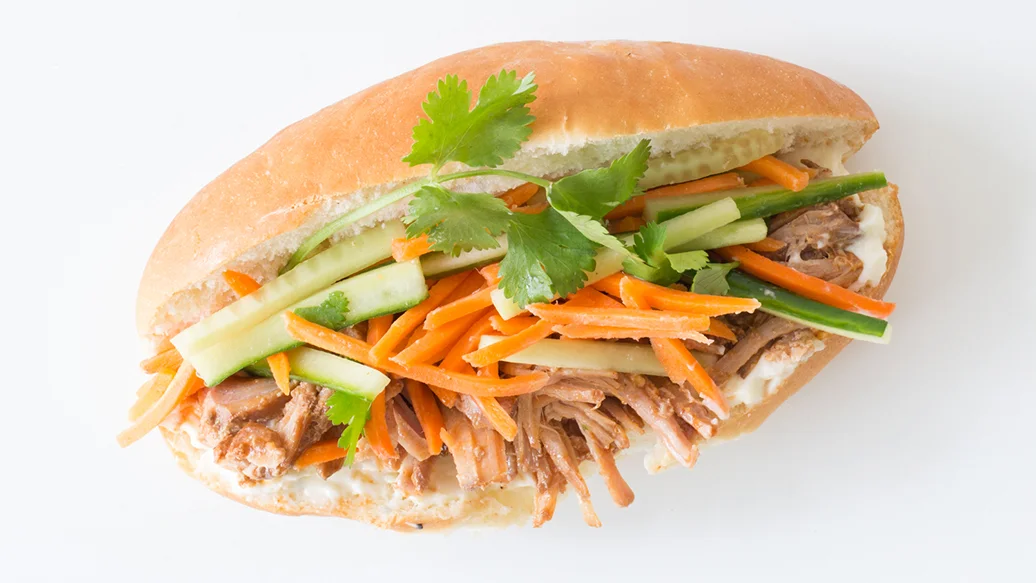 35 min
4 servings
$0.60/serving
A Banh Mi is a mess of meat tamed by pickled carrot and daikon slaw as well as cool, crunchy cucumbers. Traditionally, it's made with a few types of meat, but our Epicurized version uses pulled pork.
Perfectly Balance Your Plate
Serve with 1 cup veggies with 1⁄4 cup Epicure dip.
Ingredients
1⁄2 cup water
1⁄4 cup sugar
1⁄4 cup white balsamic vinegar
3 carrots
1⁄2 daikon, or 4 radishes
1 baguette
1⁄4 cup light mayonnaise
16 slices of cucumber
1⁄4 cup chopped fresh cilantro , optional
Preparation
In a Multipurpose Pot - 8 cup, stir water with sugar and white balsamic vinegar. Bring to a boil, then pour into a bowl and let cool to room temperature.
Meanwhile, using a 4-in-1 Mandoline, slice carrots lengthwise into ribbons, then stack slices. Cut into julienne strips. Repeat with daikon or radishes.
Once vinegar mixture has cooled, stir in carrots and daikon. Let marinate at least 1 hour or refrigerate overnight to soak up flavour.
Slice baguette lengthwise, then cut into quarters. Lightly spread cut-sides with mayonnaise. Strain pickled slaw and discard liquid. Top bottom halves of baguette with pulled pork, then divide slaw, cucumber and cilantro overtop. Cover with baguette tops and serve.
Nutritional Information
Per serving: Calories 250, Fat 8 g (Saturated 1.5 g, Trans 0 g), Cholesterol 45 mg, Sodium 320 mg, Carbohydrate 30 g (Fibre 3 g, Sugars 20 g), Protein 15 g.