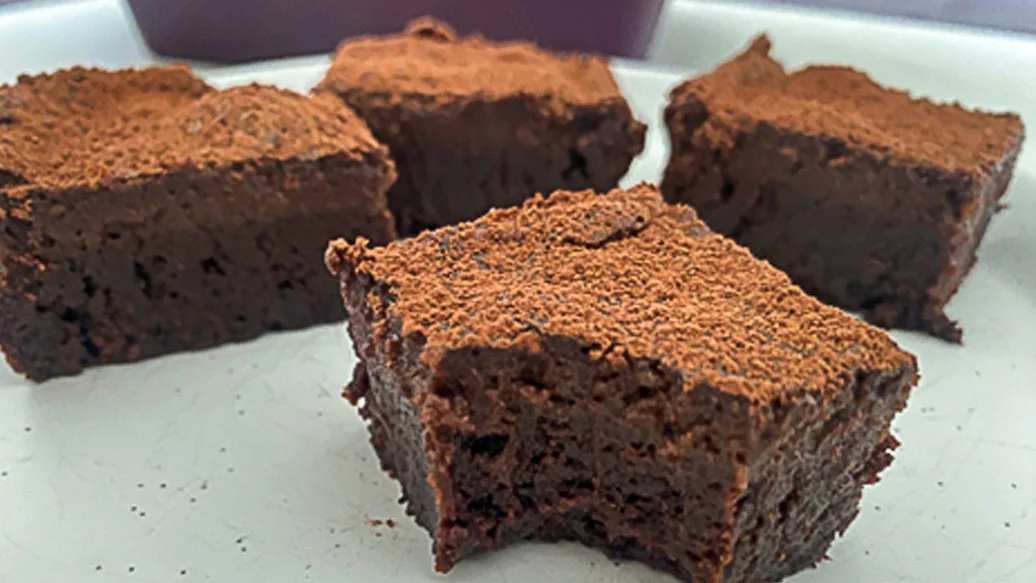 2 hr & 45 min (includes 2 hr cool and chill time)
16 servings
$0.63/serving
Finish your dinner party in style with this decadent dessert. A light and airy layer of chocolate mousse tops our fudgy and dense brownies for the perfect two-bite treat.  Serve as is, or pair it with whipped cream and fresh strawberries.  
Ingredients
1⁄2 cup chocolate chips
1⁄2 cup whipping cream
1⁄2 cup unsalted butter, melted
4 eggs, divided
2 tbsp milk, your choice
1 tsp vanilla extract
3 tbsp granulated sugar
Topping (optional): cocoa powder 
Preparation
Preheat oven to 350° F. Lightly oil Square Steamer and place on Sheet Pan.  
In a medium saucepan, heat chocolate chips and cream over medium-low heat, stirring frequently, until chocolate is melted. Remove from heat and let cool 5 min.  
Meanwhile, in a large bowl, combine mix with butter. Add 2 eggs, milk, and vanilla extract. Stir until well combined. Scrape into Square Steamer.  
Using a stand mixer or hand mixer, beat remaining 2 eggs and sugar on medium-high speed until foamy, about 1 min. Beat in cooled cream and chocolate mixture on low speed until smooth. Pour over brownie batter in steamer.   
Bake, 30–32 min or until topping is set and toothpick comes out mostly clean. Cool completely on Cooling Rack, about 1 hr. Refrigerate 1 hr or until chilled.  
Cut into squares and sprinkle with cocoa powder before serving, if desired.  
Nutritional Information
Per serving: Calories 190, Fat 11 g (Saturated 7 g, Trans 0.3 g), Cholesterol 70 mg, Sodium 100 mg, Carbohydrate 20 g (Fibre 2 g, Sugars 15 g), Protein 3 g.