Mini Spinach Pies (Spanakopita)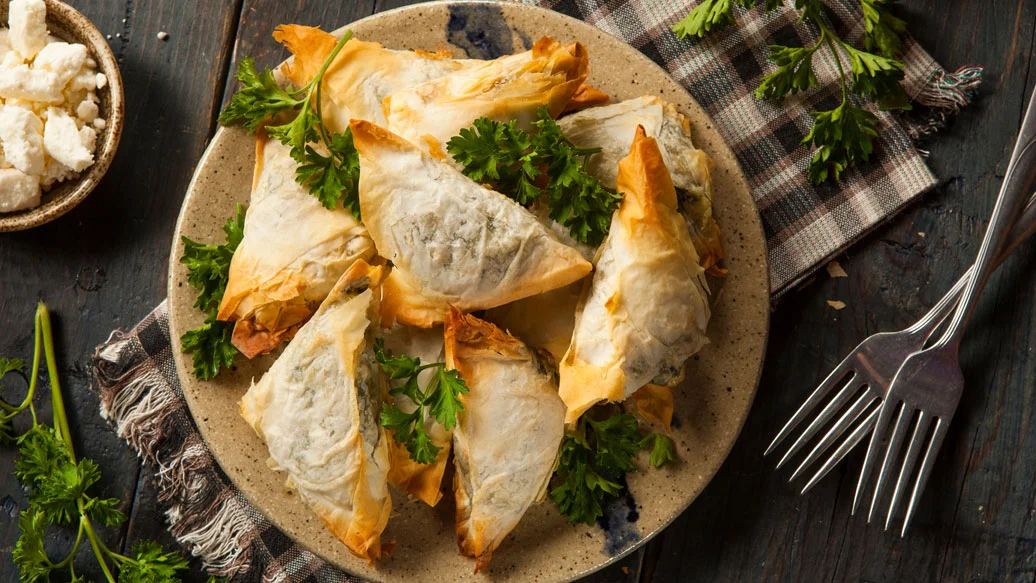 30 min
48 mini pies
$0.70/serving
Ready to take your gathering to the next level? Say hello to Spanakopita! Flaky phyllo pastry meets a heavenly filling of spinach, feta, and ricotta with fresh citrus and vibrant dill. Find phyllo dough in the freezer aisle and let's get cooking! Opa!
Perfectly Balance Your Plate
Serve with 3⁄4 cup prepared Lemony Chickpea Salad and prepared Dillicious Tzatziki.
Ingredients
2 eggs
1 medium onion, diced
4 oz (114 g) crumbled low-fat feta cheese
1⁄4 cup ricotta cheese
1 pkg (10 oz/300 g) frozen spinach
12 sheets phyllo pastry
1 cup melted butter
Preparation
Whisk eggs and Lemon Dilly together in a medium mixing bowl. Add onion, feta, cottage cheese and spinach. Combine well.
Preheat oven to 375° F (190° C).
Phyllo sheets are usually 16" x 22". Carefully unroll and cover with a clean, damp tea towel. To assemble, lay out 1 sheet and brush lightly with melted butter. Place second sheet on top of first. Using a pizza wheel (or very sharp knife) cut 8 equal strips. Place 1 tbsp filling on one end of each strip. Fold one corner of strip to opposite side, forming a triangle and enclosing the filling. Continue folding as you would a flag, to end of strip, maintaining triangular shape.
Once assembled, place on a Sheet Pan lined with a Sheet Pan Liner and bake for 15 minutes.
Nutritional Information
Per serving (4 mini pies): Calories 190, Fat 15 g (Saturated 9 g, Trans 0.5 g), Cholesterol 65 mg, Sodium 270 mg, Carbohydrate 10 g (Fibre 1 g, Sugars 1 g), Protein 4 g.
Tips
Make it a Casserole: Layer phyllo with spinach and cheese filling in a 9" x 13" pan. Brush pastry with melted butter and bake in pre-heated 375° F (190° C) oven for 30–40 minutes, until pastry is golden. Slice and serve cold.
Time-saving Tip: Place a single layer of Mini Spinach Pies on a Sheet Pan lined with a Sheet Pan Liner in the freezer. Once frozen, stack in airtight containers and keep frozen for up to 6 weeks. Bake from frozen on Sheet Pan lined with a Sheet Pan Liner at 350° F (175° C) for 20 minutes.