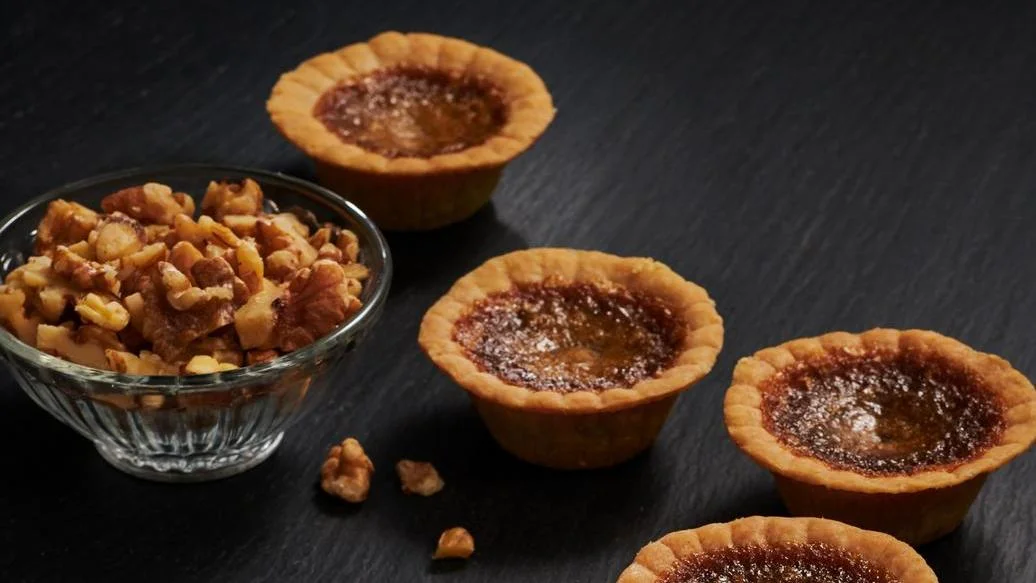 30 min
18 mini tarts
$0.60/serving
Pre-bake and cool tart shells ahead of time to get these Canadian classic tarts on the table in 20 min.
Ingredients
18 frozen mini tart shells
1⁄4 cup unsalted butter
1 pkg True North Butter Tart Mix
1⁄4 cup warm water
1 egg, optional
Preparation
Preheat oven to 375° F. Place tart shells on Sheet Pan bake 10–12 min, or until golden.  
Meanwhile, melt butter in the microwave, about 30 sec. In a bowl, whisk melted butter with mix and water until well combined. For a thicker filling, whisk in egg, if desired.  
Divide filling into cooled tart shells. Bake 10–12 min or until filling is lightly browned and bubbling. Filling will thicken as it cools; cool completely before serving. 
Nutritional Information
Per serving (1 mini tart, no egg): Calories 120, Fat 6 g (Saturated 3 g, Trans 0.1 g), Cholesterol 5 mg, Sodium 90 mg, Carbohydrate 14 g (Fibre 0 g, Sugars 7 g), Protein 1 g.
Tips
For a 100 calorie, GFRR approved dessert, divide filling between 24 mini tart shells.
For slightly larger tarts, divide filling between 12 tart shells.