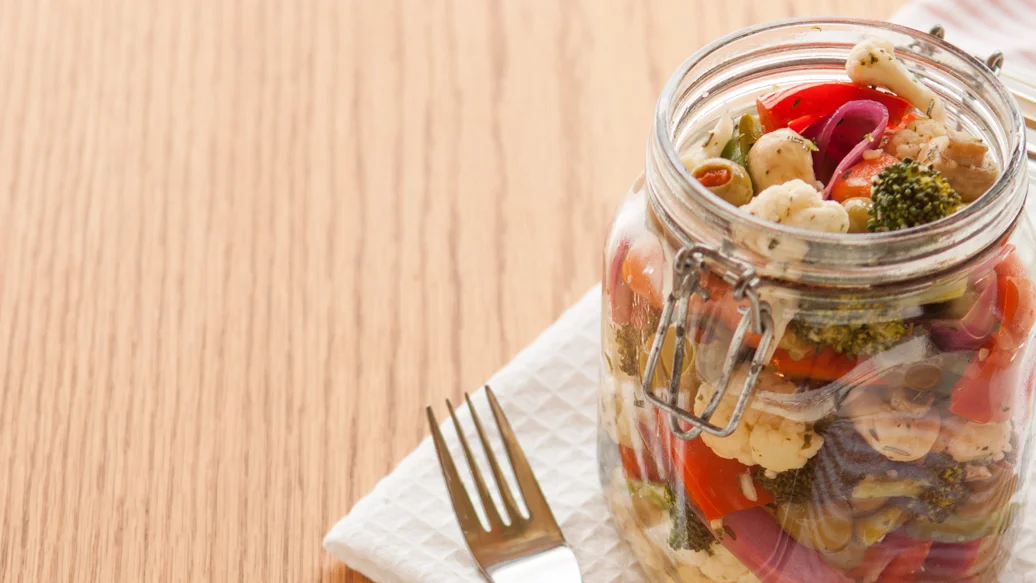 25 min
10 servings
$1.63/serving
The perfect picnic-style summer salad.
Ingredients
10 - 15 carrots, peeled and coarsely chopped
2 bell peppers, coarsely chopped
1 small head cauliflower, chopped into small florets
1 small head broccoli, chopped into small florets
1⁄2 red onion, thickly sliced
8 oz (225 g) whole button mushrooms
1⁄2 cup white balsamic vinegar, or your favourite vinegar
1⁄2 cup water
1 cup black or green olives, - optional
Preparation
Pour about 2 cups water into a large pot. Bring to a boil over high heat. Add carrots and steam for 4 minutes, then add peppers, cauliflower, broccoli, onion and mushrooms. Steam for 5–7 more minutes, until tender-crisp.
Meanwhile, whisk white balsamic vinegar with water and Italian Dressing.
Drain vegetables and place in a large bowl. Drizzle with dressing. Add olives if desired, and toss to mix.
Refrigerate salad for at least 4 hours or overnight, until well-chilled. Store in refrigerator for up to 5 days.
Nutritional Information
Per serving: Calories 60, Fat 0.4 g (Saturated 0.1 g, Trans 0 g), Cholesterol 0 mg, Sodium 105 mg, Carbohydrate 13 g (Fibre 4 g, Sugars 6 g), Protein 4 g.
Tips
Preparation Tip: Peel broccoli stems, then slice into rounds.
Serving Suggestion: Serve with Grilled Steaks.