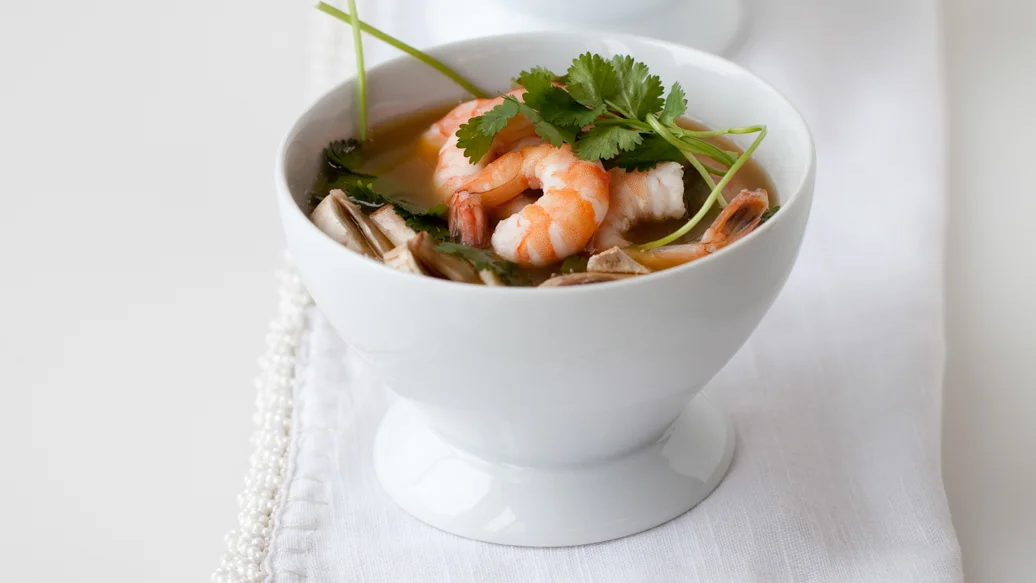 25 min
4 servings
$2.80/serving
A lower-sodium homemade version of a restaurant favourite.
Ingredients
8 oz (225 g) shrimp
2 cups sliced mushrooms (white, brown or shitake)
1 tsp grated fresh ginger
2 tbsp Thai Seasoning
2 kaffir lime leaves
1⁄4 cup fish sauce – optional
3 tbsp lemon or lime juice
crushed chilies, to taste
1⁄3 cup chopped fresh cilantro or sliced green onions
Preparation
Bring Bouillon to a boil over medium-high heat in Multipurpose Pot.
Add shrimp, mushrooms, ginger, Thai Seasoning and kaffir lime leaves. Simmer for 2–3 minutes, until shrimp are cooked.
Stir in fish sauce, if desired, and lemon or lime juice.
Remove kaffir lime leaves. Add crushed chilies, if desired. Add cilantro or onions and serve immediately.
Nutritional Information
Per serving: Calories 90, Fat 1.5 g (Saturated 0.3 g, Trans 0 g), Cholesterol 85 mg, Sodium 230 mg, Carbohydrate 6 g (Fibre 2 g, Sugars 1 g), Protein 14 g.