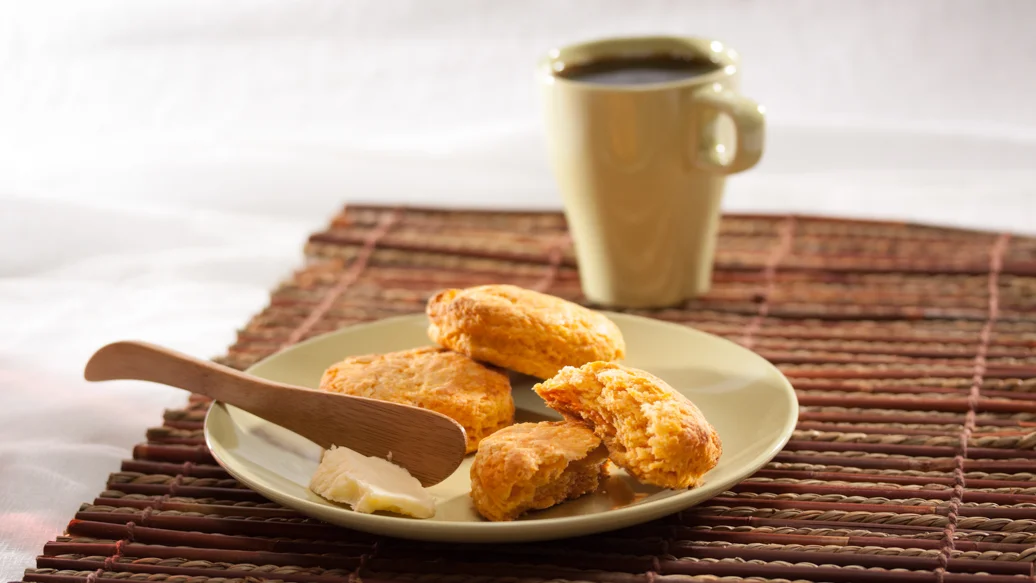 40 min
12 servings
$0.60/serving
Add a little sweet potato goodness to your biscuits.
Ingredients
1 lb (450 g) sweet potatoes
2 1⁄2 cups all-purpose flour
4 tsp baking powder
2 tbsp sugar
1 tsp Sea Salt
1 - 3 tsp Cajun seasoning
1 cup unsalted butter
1⁄4 cup milk
Preparation
Preheat oven to 400° F (205° C).
Wash potatoes and pierce in several places with a fork. Place on Sheet Pan and bake until soft (about 1 hour), or microwave for 5–7 minutes until soft.
When cool enough to handle, scoop out insides and mash to a fine purée. Measure out 1 3⁄4 cups purée and set aside. Refrigerate or freeze leftover for future use.
Stir flour with baking powder, sugar, Sea Salt and Cajun Seasoning in a bowl. With a pastry cutter or two knives, cut in butter until mixture resembles a coarse meal.
Stir milk with potato purée in another bowl and add to dry ingredients. Stir until moistened.
Place dough on a lightly floured surface. Knead once or twice, and pat out to 1⁄2" thick. Cut out biscuits using an upside-down water glass. Place on parchment-lined Sheet Pan and bake for about 20 minutes, until golden brown.
Nutritional Information
Per serving: Calories 200, Fat 8 g (Saturated 5 g, Trans 0 g), Cholesterol 20 mg, Sodium 350 mg, Carbohydrate 29 g (Fibre 2 g, Sugars 4 g), Protein 3 g.