Southwest Chicken Turnovers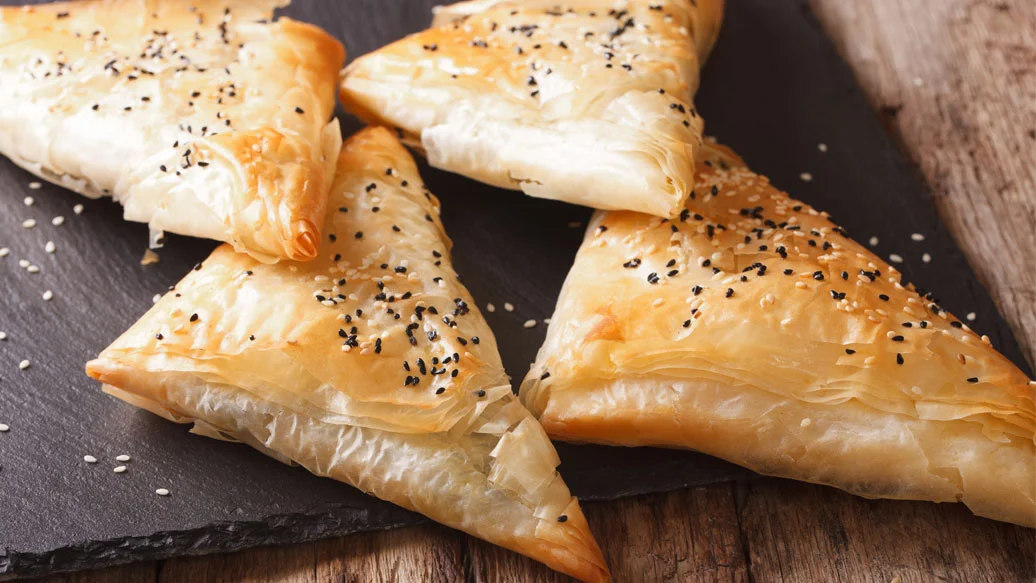 45 min
48 pieces
$0.25/serving
A quick appy, and perfect for tapas. A great make-ahead and freeze recipe.
Ingredients
1 cup finely diced, cooked chicken
1 red pepper, finely diced
1 green onion, thinly sliced
1 cup grated Cheddar cheese
2 tsp Louisiana Hot & Spicy Dip Mix
2 tbsp chili sauce
12 sheets phyllo pastry
1⁄2 cup melted butter
Preparation
Preheat oven to 375° F (190° C).
Combine first 6 ingredients, mixing well.
Phyllo must be handled with great care since it is very delicate and cracks easily. Carefully unroll and cover with a clean, damp tea towel.
Phyllo sheets are usually 16" x 22". Lay out 1 sheet and brush lightly with melted butter. Place 2nd sheet on top of first. Using a pizza wheel (or very sharp knife), cut 8 equal strips width-wise.
To roll, place 1 tbsp of filling on end of strip. Fold corner across to the opposite side, forming a triangle and enclosing the filling. Continue folding as you would a flag (fold forward, fold corner across, forward, across), maintaining triangular shape, to the end of the strip.
Place on Sheet Pan lined with Sheet Pan Liner. Bake for 15 minutes.
Nutritional Information
Per serving: Calories 40, Fat 2.5 g (Saturated 1.5 g, Trans 0.1 g), Cholesterol 10 mg, Sodium 55 mg, Carbohydrate 10 g (Fibre 0 g, Sugars 0 g), Protein 2 g.
Tips
To freeze, place unbaked turnovers in a baking pan lined with parchment paper. Freeze in a single layer. When frozen, stack in freezer containers and keep frozen for up to 6 weeks. Bake from frozen at 350° F (175° C) for 20 minutes.