Sausage and Egg Biscuit Breakfast Sandwich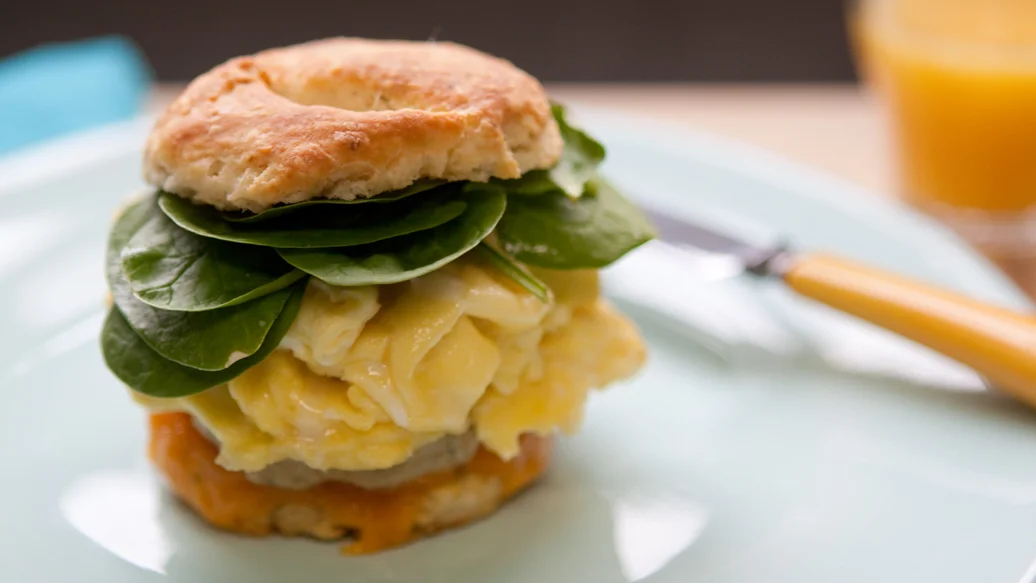 45 min
8 servings
$1.85/serving
This healthy, delicious biscuit breakfast sandwich uses wholesome everyday ingredients – great flavour without the guilt! Can be made the night before and loosely covered until ready to serve.
Ingredients
PATTIES
1 lb (450 g) lean ground turkey
1 egg
1⁄4 cup breadcrumbs
TOPPINGS
8 eggs
Sea Salt, to taste
Black Pepper, to taste
8 slices low-fat cheese
1 cup baby spinach
Preparation
Preheat oven to 350° F (180° C).
Prepare and bake 3 Onion Biscuits, slicing in half once cool. Set aside.
In a medium bowl, mix together patty ingredients. Wet hands to prevent sticking and shape into 8 small patties.
Heat frying pan over medium heat. Pan-fry patties for approximately 3 minutes per side, until golden brown and cooked through. Set aside to cool on a cooling rack.
In a small mixing bowl, whisk eggs together. Season with Sea Salt and Pepper.
Pour eggs into pre-heated pan. As eggs begin to thicken, stir with Corner Spatula until they are set but still soft.
To assemble, arrange 8 biscuit bottoms on Sheet Pan lined with parchment paper. Layer each with cheese, patties and eggs. Warm in oven for 5 minutes, or until cheese is nicely melted.
Remove from oven and top each with several leaves of spinach and biscuit tops. Enjoy!
Nutritional Information
Per serving: Calories 340, Fat 15 g (Saturated 7 g, Trans 0 g), Cholesterol 290 mg, Sodium 540 mg, Carbohydrate 23 g (Fibre 1 g, Sugars 1 g), Protein 28 g.
Tips
Make it extra-healthy with these tips: 
Try Epicure Sweet Potato Biscuits with antioxidant-rich sweet potatoes
Use half whole eggs and half egg whites (1 whole = 2 whites)
Use hard brick cheese – lower in sodium than highly processed cheese slices
Top with more of your favourite veggies: avocado, tomato, red onion, lettuce, spinach, even asparagus