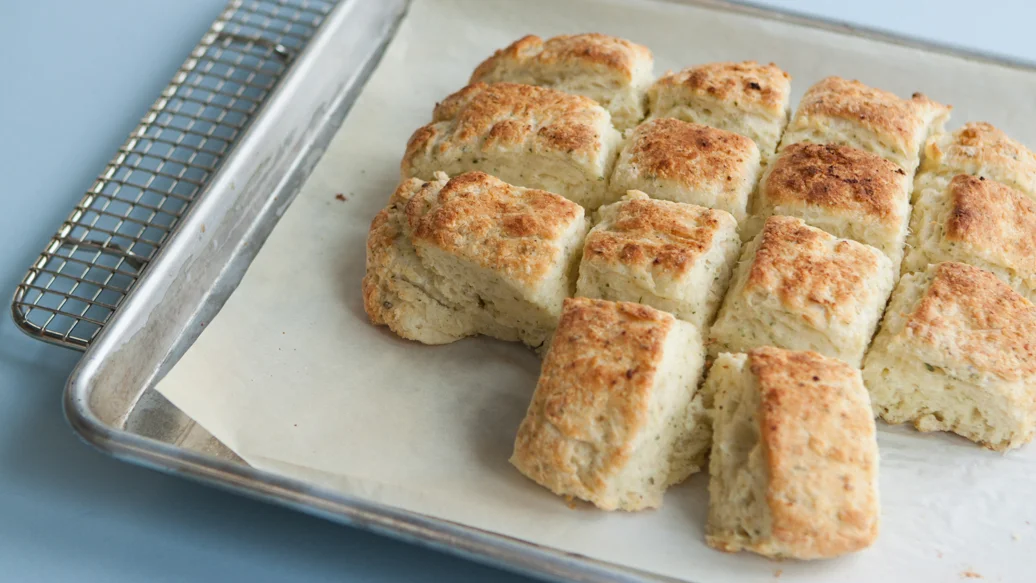 30 min
16 servings
$0.35/serving
Tasty, easy-to-make biscuits that deliver on flavour thanks to 3 Onion Dip Mix. This recipe makes a big batch. Serve these at dinner and send the kids to school with them as part of their lunch, they'll love it!
Ingredients
3 cups all-purpose flour
1 1⁄2 tbsp baking powder
1 tsp Sea Salt, finely ground
1 tsp Black Pepper, finely ground
1⁄2 cup cold butter, cut into cubes
1⁄2 cup milk
2 tbsp melted butter
Preparation
Preheat oven to 425° F (220° C).
In a large bowl, whisk together first four ingredients. Using your fingertips, rub butter into dry ingredients until mixture resembles coarse crumbs.
In a separate bowl, whisk milk and 3 Onion Dip Mix together. Add milk mixture to dry ingredients, stirring until clumps form.
Transfer dough to a floured surface and knead until dough holds together.
Roll dough out to an 8" square of 1⁄2" thickness. Cut 4 across and 4 down to create 16 biscuits. Transfer biscuits to Sheet Pan lined with Sheet Pan Liner, and brush with butter.
Bake 15–18 minutes, or until biscuits are golden brown. Serve warm.
Nutritional Information
Per serving: Calories 170, Fat 8 g (Saturated 5 g, Trans 0.2 g), Cholesterol 20 mg, Sodium 370 mg, Carbohydrate 20 g (Fibre 1 g, Sugars 0 g), Protein 3 g.
Tips
3 Onion Biscuits can be baked early in the day and loosely covered until ready to serve.