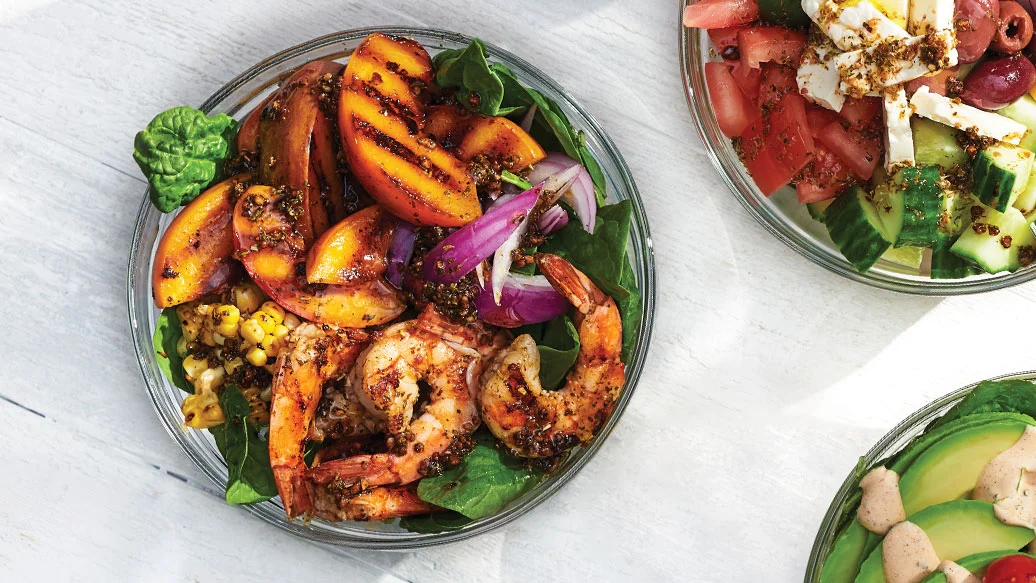 20 min
4 servings
$5.74/serving
Perfectly Balance Your Plate
This is a perfectly balanced plate.
Ingredients
4 small corn cobs, unshucked
3⁄4 cup olive oil
1⁄4 cup balsamic vinegar
1 lb (450 g) peeled, raw shrimp
2 large peaches
1⁄4 red onion
8 cups baby spinach
Preparation
Preheat grill to medium-high. Meanwhile, cut off and discard stem end from corn. Leave silky tassels at the top end. Place cobs in Multipurpose Steamer. Cover; microwave on high 5 min. Using oven mitts, gently grip tip of corn with one hand and squeeze. The corn will pop out of the husk.
In a bowl, combine shrimp and 2 tbsp dressing. Stir to coat.
Slice peaches in half. Remove pits. Pour 2 tbsp dressing into Prep Bowl; using a Basting Brush, brush over peaches and corn. Place corn, peaches, and shrimp on Sheet Pan lined with Sheet Pan Liner and head to the grill!
Place peaches flesh-side down on grill. Add corn; cook, turning often, until charred, about 6 min. Remove from grill once peaches and corn are lightly charred.
Using a BBQ grill basket, grill shrimp. Alternatively, thread shrimp on skewers and grill until cooked, with lid closed, about 2–3 min per side.
Carefully slice corn off the cob. Thinly slice onion.
Divide spinach, peaches, corn, shrimp, and onion between four bowls. Drizzle each bowl with 1 tbsp dressing.
Nutritional Information
Per serving: Calories 430, Fat 22 g (Saturated 3 g, Trans 0 g), Cholesterol 220 mg, Sodium 540 mg, Carbohydrate 33 g (Fibre 6 g, Sugars 10 g), Protein 30 g.
Tips
This meal is perfect to serve family style—simply arrange food on a large serving platter.
Depending on where you live, shrimp can be expensive, so swap with cubed chicken, if desired.