Oven "Fried" Crispy Chicken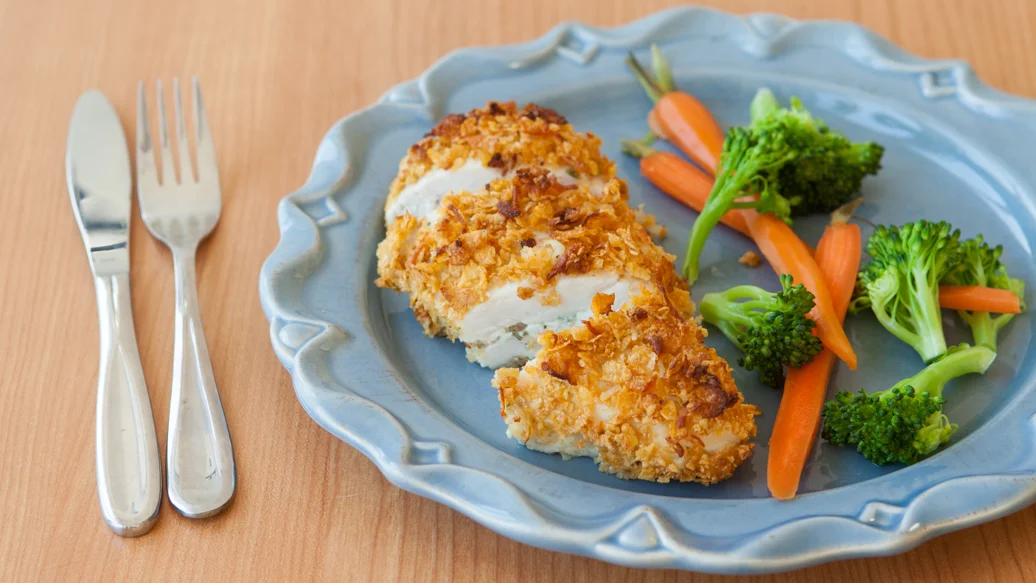 1 hour
4 servings
$3.00/serving
All the mouth-watering taste of fried chicken, without the added fat!
Ingredients
3 tbsp all-purpose flour
1⁄4 tsp Black Pepper, optional
1⁄2 cup cornflakes or cracker crumbs
1 tbsp freshly grated Parmesan cheese
1⁄4 cup buttermilk
4 boneless, skinless chicken breasts
Sea Salt, to taste
Preparation
Preheat oven to 375° F (190° C).
In a shallow pie plate, combine flour, Greek Dressing Mix, and Black Pepper. In another shallow pie plate, mix cornflakes and Parmesan. Pour buttermilk into a small bowl.
Dip chicken in flour mixture, then buttermilk. Roll in cornflake mixture until all sides are well-covered.
Place on Sheet Pan lined with parchment paper and bake approximately 40 minutes, or until chicken is no longer pink and juices run clear. For extra-crispy chicken, bake an additional 20 minutes.
Sprinkle with Sea Salt, if desired.
Nutritional Information
Per serving: Calories 230, Fat 4 g (Saturated 1 g, Trans 0 g), Cholesterol 75 mg, Sodium 190 mg, Carbohydrate 17 g (Fibre 1 g, Sugars 2 g), Protein 30 g.