Microwave Chicken 'n Shrimp Jambalaya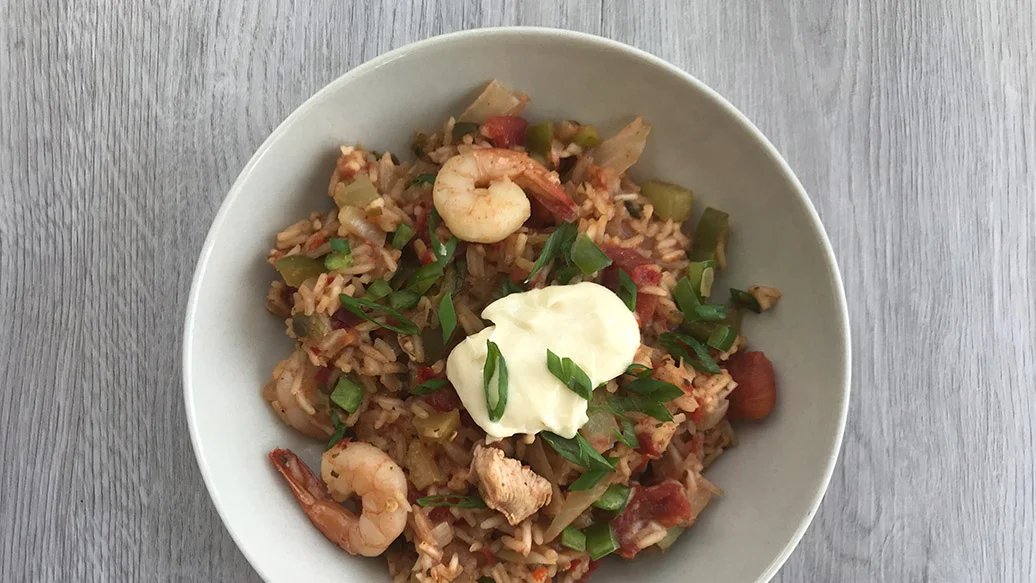 20 min
4 servings
$4.19/serving
Perfectly Balance Your Plate
Serve with 1 tbsp Epicure aioli, your choice. 
Ingredients
2 celery stalks
1 green bell pepper
1 large onion
1⁄2 lb (225 g) boneless, skinless chicken breasts (about 1)
2 cups water
1 can (14 oz/398 ml) diced tomatoes
1 cup uncooked white rice
1⁄2 lb (225 g) frozen cooked peeled shrimp, defrosted
Toppings (optional): sliced green onions, Roasted Garlic Aioli
Preparation
Dice celery, bell pepper, onion, and chicken. Place in Multipurpose Steamer.
Stir in water, diced tomatoes, rice, and seasoning. Make sure the rice is submerged under the liquid. Microwave, uncovered, on high for 16–18 min, stirring halfway, or until rice is tender.
Add shrimp to Multipurpose Steamer; stir to combine. Microwave on high, uncovered for 2 min, or until shrimp are warmed through. If you have time, let the jambalaya rest a few minutes to allow the moisture to redistribute in the rice.
Spoon into bowls and add toppings, if desired.
Nutritional Information
Per serving (about 2 cups): Calories 370, Fat 2.5 g (Saturated 0.5 g, Trans 0 g), Cholesterol 125 mg, Sodium 410 mg, Carbohydrate 56 g (Fibre 4 g, Sugars 8 g), Protein 28 g.
Tips
Swap chicken or shrimp for sliced cooked sausage.