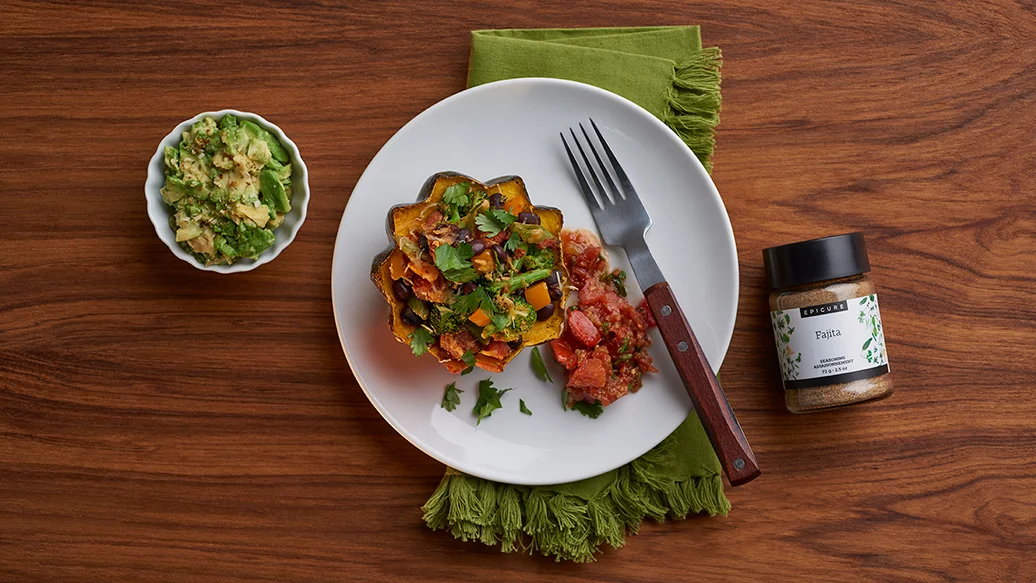 50 min
4 servings
$3.66/serving
This recipe offers the lively flavours and classic toppings of Mexican cuisine with a cozy twist! Acorn squash typically needs to roast for over an hour in the oven before stuffing, but with the Multipurpose Steamer, you can cook one in just 15 minutes in the microwave! And, not only is dinner on the table lickity split, acorn squash comes with some serious health benefits: it's low in calories but full of fibre and nutrients important for healthy hearts, eyes and digestion.
Perfectly Balance Your Plate
Serve with 1 cup chopped veggies.  
Ingredients
2 medium acorn squash, cut in half, seeds removed
2 cans (19 oz/540 ml each) low-sodium black beans, drained and rinsed
1 cup steamed seasonal veggies, chopped
1⁄4 cup grated cheese, your choice
3 tbsp cilantro, to garnish, optional
Preparation
Place squash, two halves at a time (or all four if small enough), cut-side down, in a Multipurpose Steamer. Cover and microwave on high for 15 minutes. Set aside and repeat with the two other halves, if needed.
Meanwhile, preheat oven to 350° F (175° C) and prepare filling by combining beans, veggies, salsa, cheese, and seasoning.
Arrange the acorn squash halves cut-side up on a Sheet Pan lined with a Sheet Pan Liner and divide the stuffing evenly among each.
Bake for 15 minutes or until the stuffing is heated. Remove from oven and let stand for 2–3 minutes. Garnish with Guacamole and cilantro, if desired.
Nutritional Information
Per serving: Calories 410, Fat 7 g (Saturated 1.5 g, Trans 0.1 g), Cholesterol 5 mg, Sodium 260 mg, Carbohydrate 70 g (Fibre 20 g, Sugars 2 g), Protein 21 g.
Tips
Prep ahead by stuffing the squash the day before and baking to heat through right before serving.