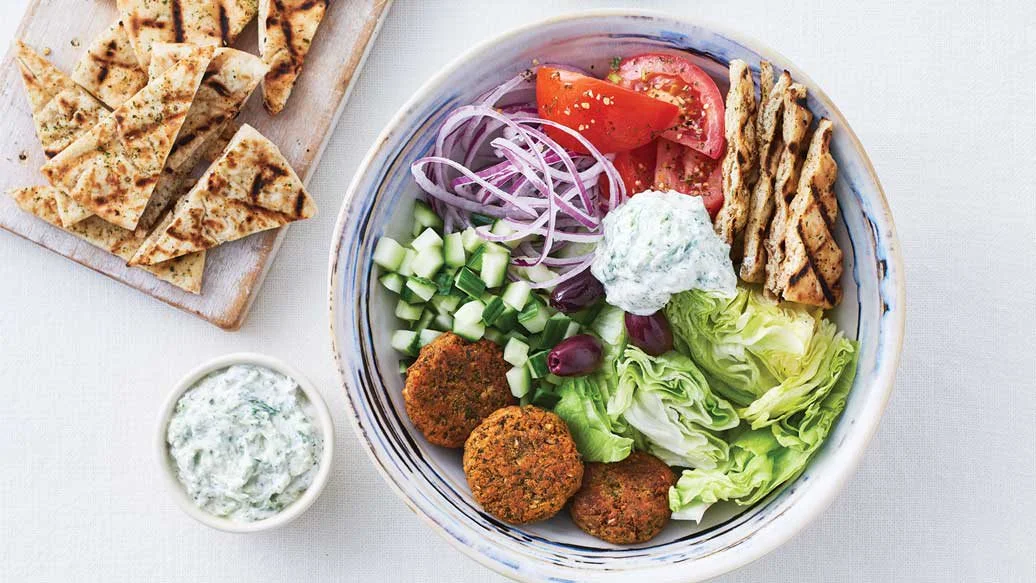 20 min
2 servings
$4.83/serving
A great way to use up leftovers like falafels, burgers, grilled meat, or tofu.
Perfectly Balance Your Plate
Serve with grilled pita wedges.
Ingredients
1⁄2 cup 2% plain Greek yogurt
1 cucumber, divided
1⁄2 head iceberg lettuce
1 tomato
1⁄2 small red onion
1
⁄
2
recipe
Falafels
, about 6 pieces, prepared
Toppings (optional): Kalamata olives, roasted chickpeas or hummus
Preparation
In a bowl, stir together yogurt and Lemon Dilly Dip Mix. On a box grater, coarsely grate 1⁄2 cucumber. Wrap in a kitchen towel; squeeze out excess liquid. Stir cucumber into yogurt, set aside.
Dice remaining 1⁄2 cucumber. Cut iceberg in half; then slice into thin wedges.
Cut tomato into wedges; sprinkle with Herb & Garlic Dip Mix. Thinly slice onion into rings.
Divide cucumber, lettuce, tomato, and onion between two bowls. Top each with three falafels and toppings, as desired. Spoon yogurt mix on top.
Nutritional Information
Per serving: Calories 350, Fat 14 g (Saturated 2.5 g, Trans 0 g), Cholesterol 5 mg, Sodium 610 mg, Carbohydrate 41 g (Fibre 10 g, Sugars 15 g), Protein 16 g.
Tips
To make the sauce easier to drizzle, thin with milk or water.