Hot Buttered Bananas for Verrines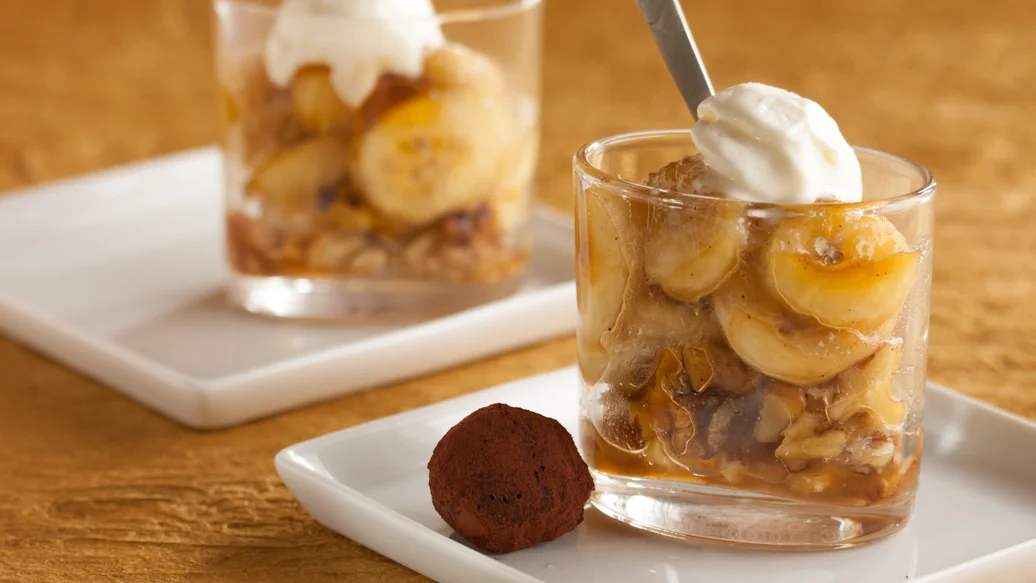 15 min
6 verrines
$1.23/serving
'Verrine' comes from verre, the French word for glass. A Verrine is an impressive appetizer or dazzling dessert elegantly presented in a small glass.
Ingredients
2 tbsp walnut crumbs
1 tbsp brown sugar
1 tbsp butter
1 banana, sliced
6 mini scoops of vanilla ice cream (use a melon baller)
Preparation
Heat walnut crumbs in frying pan over medium-high heat until lightly browned. Remove from pan and set aside.
Melt brown sugar, butter, and Apple Pie Spice in pan, and bring to a quick boil.
Add banana and gently stir to warm. Divide between 6 verrines.
Top with a scoop of ice cream and a sprinkling of walnut crumbs.
Nutritional Information
Per serving: Calories 0, Fat 0 g (Saturated 0 g, Trans 0 g), Cholesterol 0 mg, Sodium 0 mg, Carbohydrate 0 g (Fibre 0 g, Sugars 0 g), Protein 0 g.
Tips
Serving Suggestion: Dish up with a single Epicure Rum Ball.