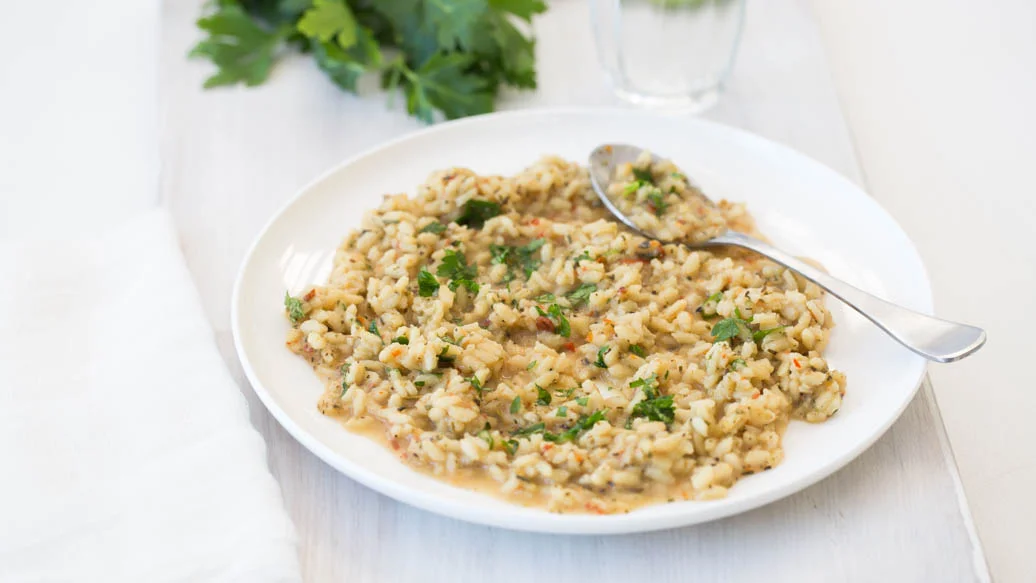 45 min
4 servings
$1.05/serving
An Italian rice dish, cooked in a savoury herb stock.
Ingredients
2 tbsp butter
1 small onion, minced
1 1⁄2 cups arborio or other medium grain rice
1⁄3 cup dry white wine, optional
2 tbsp chives
1⁄3 cup grated Parmesan or Romano cheese
Preparation
In Multipurpose Pot - 8 cup, heat Vegetable Broth to a gentle simmer. Reduce temperature and keep hot.
Heat Multipurpose Pot - 12 cup to medium; melt butter and sauté onion until aromatic, about 4 minutes. Add arborio rice and Pizza Seasoning. Stir and cook until rice begins to turn slightly translucent. Add dry white wine, stir and cook until wine has evaporated.
Add 1 ladle full of Broth to rice, stir and cook until stock is absorbed. Continue to add Broth to rice 2 - 3 ladles at a time, stirring and cooking after each addition, until liquid is absorbed. Stop adding Broth once rice is tender but still firm. This process will take 20 - 30 minutes. Remove from heat.
Stir in chives and grated Parmesan or Romano cheese. Cover and allow to sit for 5 minutes before serving.
Nutritional Information
Per serving: Calories 260, Fat 10 g (Saturated 5 g, Trans 0.2 g), Cholesterol 20 mg, Sodium 1210 mg, Carbohydrate 31 g (Fibre 2 g, Sugars 2 g), Protein 12 g.