Grilled Shrimp Tacos with Corn & Mango Salsa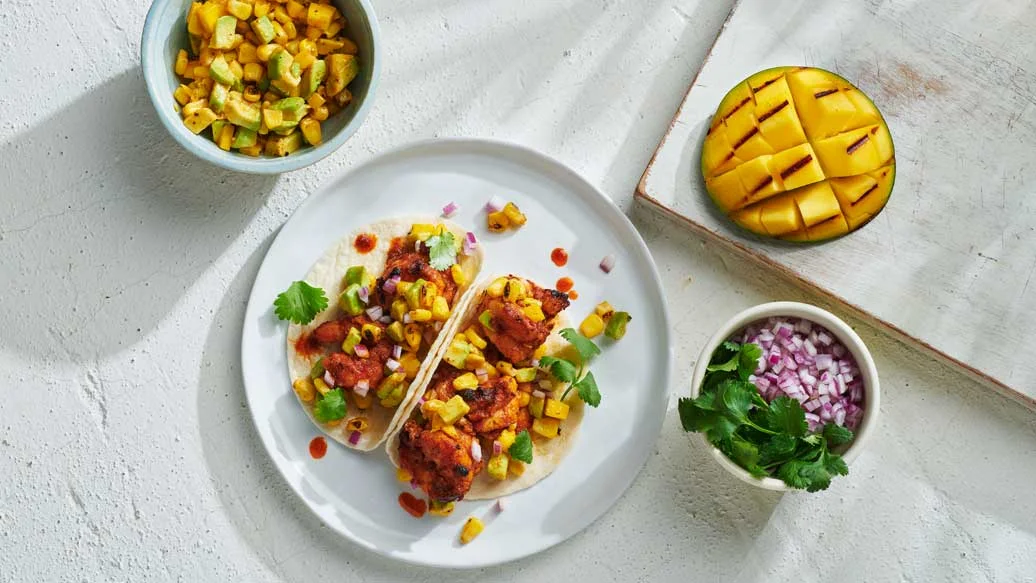 20 min
4 servings
$4.13/serving
Perfectly Balance Your Plate
Serve with 1 cup sliced veggies of your choice. 
Ingredients
2 tbsp oil
1 1⁄2 limes, divided
1 small corn cob
1 large mango
1 pkg (340 g) frozen, peeled shrimp, defrosted
1 small avocado
Sea Salt, to taste
Black Pepper, to taste
8 small tortillas, warmed
Toppings (optional): diced red onion, chopped cilantro
Preparation
Preheat grill to medium-high. Meanwhile, in a large bowl, whisk together rub and oil. Cut lime in half. Using 2-in-1 Citrus Press, squeeze in juice from one lime.  
Cut off and discard stem end from corn. Leave silky tassels at the top end. Place cob in Multipurpose Steamer. Cover; microwave on high 3 min. Using oven mitts, gently grip tip of corn with one hand and squeeze. The corn will pop out of the husk. Slice mango in two pieces from the pit. Cut the flesh in a diamond pattern (try not to pierce the skin). Lightly brush corn and exposed flesh of mango with wet rub. Place shrimp in bowl with remaining wet rub; toss to coat.   
Place shrimp (in bowl), corn, mango, and skewers on a Sheet Pan and head to the grill! 
Add corn to grill; cook, turning often, until charred, about 6 min. Add mango, flesh side down, and grill 4 min or until charred. Meanwhile, thread shrimp onto skewers. Add shrimp to grill; grill 2 min per side or until cooked.  
Slice corn off the cob. Push on the skin side of the mango so the flesh pops out; slice off pieces. Dice avocado. Place corn, mango, and avocado in a bowl. Using 2-in-1 Citrus Press, add juice from remaining 1⁄2 lime. Add salt and pepper to taste.  
Once shrimp is cooked, remove from skewers. Divide shrimp and salsa between tortillas. Add extra toppings, if desired.  
Nutritional Information
Per serving (2 tacos): Calories 400, Fat 17 g (Saturated 2 g, Trans 0 g), Cholesterol 125 mg, Sodium 270 mg, Carbohydrate 48 g (Fibre 9 g, Sugars 15 g), Protein 19 g.
Tips
Metal or wooden skewers work well for shrimp. If using wooden skewers, soak them in water 10–20 min before threading. This will help prevent them from burning on the grill.
Have a BBQ grill basket? Skip skewering the shrimp.  
Warm your tortillas on the grill! Simply heat for 10–20 sec on each side.