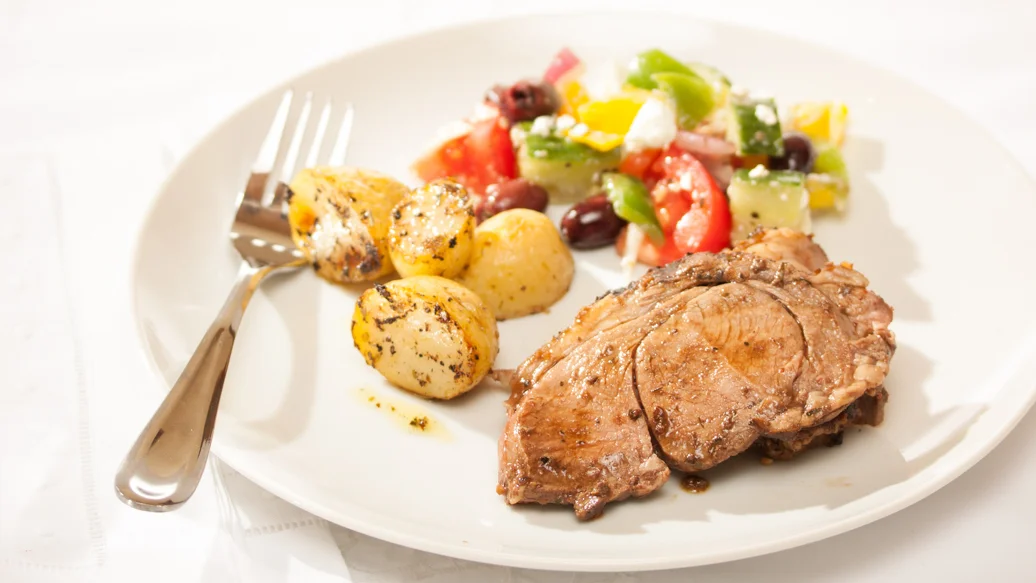 30 min (+ 8 hrs to marinate)
10 servings
$2.60/serving
Entertain at home with this succulent recipe.
Ingredients
3 1⁄2 lbs (1.5 kg) boneless butterflied leg of lamb
Sea Salt, to taste
Black Pepper, to taste
Preparation
Place lamb in a large bowl and coat with Greek Dressing. Cover and refrigerate at least 8 hours, preferably overnight.
Remove lamb from fridge about 1 hour before cooking to bring to room temperature. Scrape excess marinade from lamb, then sprinkle with Sea Salt and Black Pepper.
Preheat barbecue to medium-high. Place lamb, fat-side down, on grill. Grill for 2 minutes, then turn over and continue to grill for 2 more minutes.
Reduce heat to medium. Grill, turning occasionally, 18–20 more minutes for medium-rare. To check for doneness, insert an instant-read thermometer into thickest part of meat. It should read 145° F (63° C). Let stand 5 minutes before slicing.
Nutritional Information
Per serving: Calories 320, Fat 24 g (Saturated 10 g, Trans 0 g), Cholesterol 100 mg, Sodium 55 mg, Carbohydrate 0 g (Fibre 0 g, Sugars 0 g), Protein 26 g.