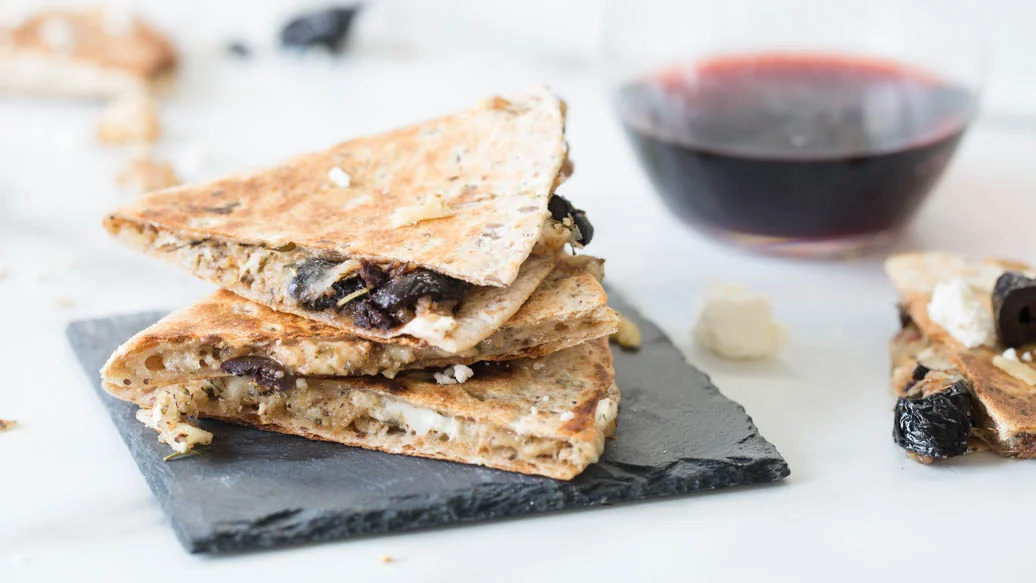 18 min
18 pieces
$1.50/serving
A taste of Greece in a tortilla! Wonderful with prepared Dillicious Tzatziki for dipping.
Ingredients
6 flour tortillas (6")
1 cup grated Mozzarella cheese
2⁄3 cup crumbled Feta cheese
1⁄4 cup chopped walnuts
1⁄4 cup chopped Greek-style olives
Preparation
Lay out tortillas on counter top.
Combined next 5 ingredients in small mixing bowl. Divide mixture on one half of each tortilla. Fold tortillas in half with firm pressure.
Lightly spray frying pan with olive oil. Cook quesadillas 4 minutes on each side. Cut each into 3 wedges and serve.
Quesadillas can also be baked on a Sheet Pan lined with a Sheet Pan Liner at 350° F (175° C), until tortillas are golden and cheese in melted.
Nutritional Information
Per serving: Calories 250, Fat 15 g (Saturated 6 g, Trans 0 g), Cholesterol 35 mg, Sodium 520 mg, Carbohydrate 19 g (Fibre 3 g, Sugars 1 g), Protein 14 g.