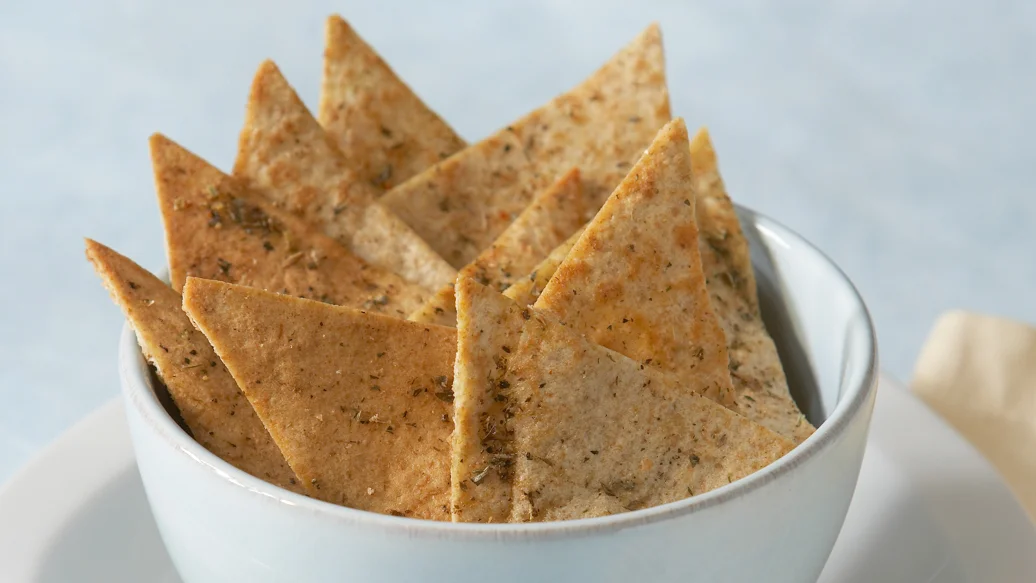 20 min
64 pieces
$0.60/serving
A lower-fat alternative to potato chips that's the perfect addition to a Greek Mezze board! Infused with flavours of garlic, oregano, and lemon. Serve alongside Dillicous Tzatziki, hummus, or your favourite dip. 
Ingredients
4 whole-grain pita bread rounds
1⁄4 cup olive oil
2 tsp lemon juice
Sea Salt, to taste
Preparation
Preheat oven to 325° F (160° C).
Split 4 pita rounds in half to make 8 rounds.
Combine olive oil, lemon juice and Souvlaki. Brush on the inside of each pita round. Sprinkle with Sea Salt.
Cut each round into 8 wedges and place in a single layer on a Sheet Pan lined with a Sheet Pan Liner.
Bake for 10–15 minutes until crisp and golden brown.
Nutritional Information
Per serving (8 chips): Calories 150, Fat 7 g (Saturated 1 g, Trans 0 g), Cholesterol 0 mg, Sodium 190 mg, Carbohydrate 17 g (Fibre 1 g, Sugars 0 g), Protein 3 g.