Fruit Crumble-Stuffed French Toast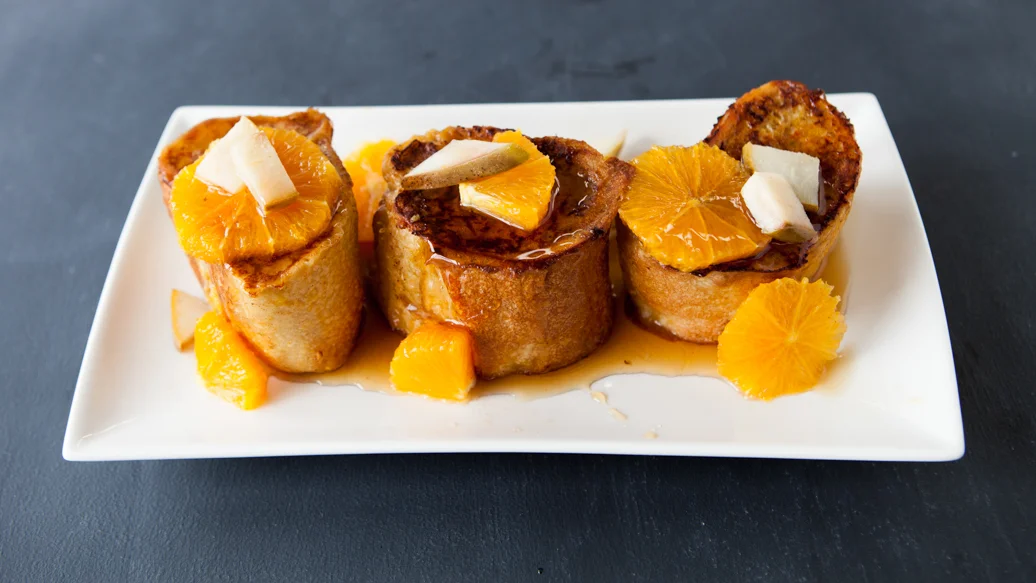 3 1/2 hrs
12 servings
$1.15/serving
A make-ahead, baked version of a fruity, spiced French toast. Yum! 
Ingredients
FILLING
2 pears, unpeeled, chopped
2 oranges, peeled and chopped
1 - 2 tbsp sugar or brown sugar
1 tbsp butter, cubed
FRENCH TOAST
1 large baguette, sliced into 12 thick pieces
3 eggs
1 cup milk
1 tbsp sugar
3 tbsp unsalted butter, melted, divided
Preparation
FILLING
Place pears and oranges in Multipurpose Steamer. Gently stir in Apple Pie Spice and sugar. Dot butter overtop. Cover and microwave on high until fruit is soft, approximately 3–4 minutes.
FRENCH TOAST
Cut a small hole in the bottom crust of each slice. Widen each hole with your finger.
Spoon filling into each hole. Stir any leftover filling into maple syrup for a topper.
Arrange stuffed slices in a 9" x 13" baking dish – it's okay to bunch together for the next step.
In a bowl, using Piano Wire Whisk, whisk eggs with milk, sugar, and Apple Pie Spice. Pour over stuffed slices. Turn slices over to soak up all the egg mixture. Cover and refrigerate at least 3 hours, or overnight.
When ready to bake, preheat oven to 450° F (230° C).
Brush Sheet Pan with half of the butter. Arrange slices so they don't touch.
Bake 8 minutes. Remove, brush with remaining butter, and turn slices over. Continue to bake until toasty and golden, approximately 8 more minutes. Dish up with maple syrup and fresh orange and pear slices.
Nutritional Information
Per serving: Calories 300, Fat 12 g (Saturated 6 g, Trans 0.2 g), Cholesterol 145 mg, Sodium 290 mg, Carbohydrate 41 g (Fibre 4 g, Sugars 16 g), Protein 9 g.
Tips
Use Multipurpose Steamer to save time and dishes. No Steamer? No problem! Simply sauté fruit in frying pan.