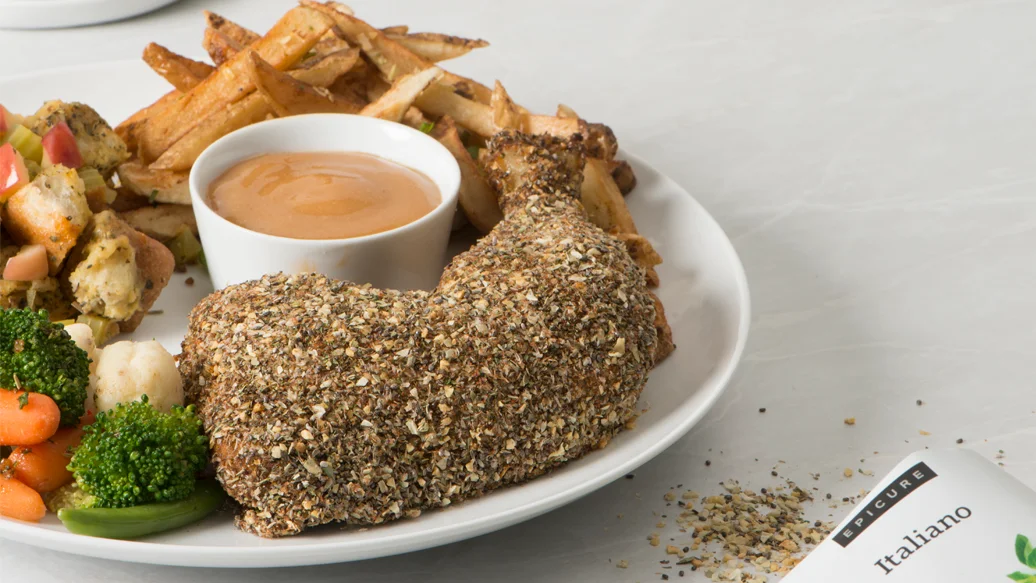 40 min
8 servings
$6.15/serving
Our take on a feast made healthier and more cost effective at home.
Perfectly Balance Your Plate
Serve with Bliss Balls for dessert.
Ingredients
2 lbs chicken legs, skin on
1 tbsp oil
1 pkg Southern Baked Gluten Free Crumb Mix
Preparation
Preheat oven to 375° F (190° C).
Lightly coat chicken with oil.
Place mix in resealable plastic bag. Add chicken, shaking gently until evenly coated.
Place chicken on Sheet Pan lined with Sheet Pan Liner. Cook 20–25 minutes. Food safe thermometer should register at 180 °F (82 °C).
Meanwhile, keep all prepared recipes warm in steamers.
Serve chicken with stuffing, fries, veggies, and gravy. Enjoy!
Nutritional Information
Per serving: Calories 350, Fat 8 g (Saturated 2.5 g, Trans 0 g), Cholesterol 95 mg, Sodium 380 mg, Carbohydrate 28 g (Fibre 6 g, Sugars 5 g), Protein 40 g.