Easy Mess-Free Microwave Corn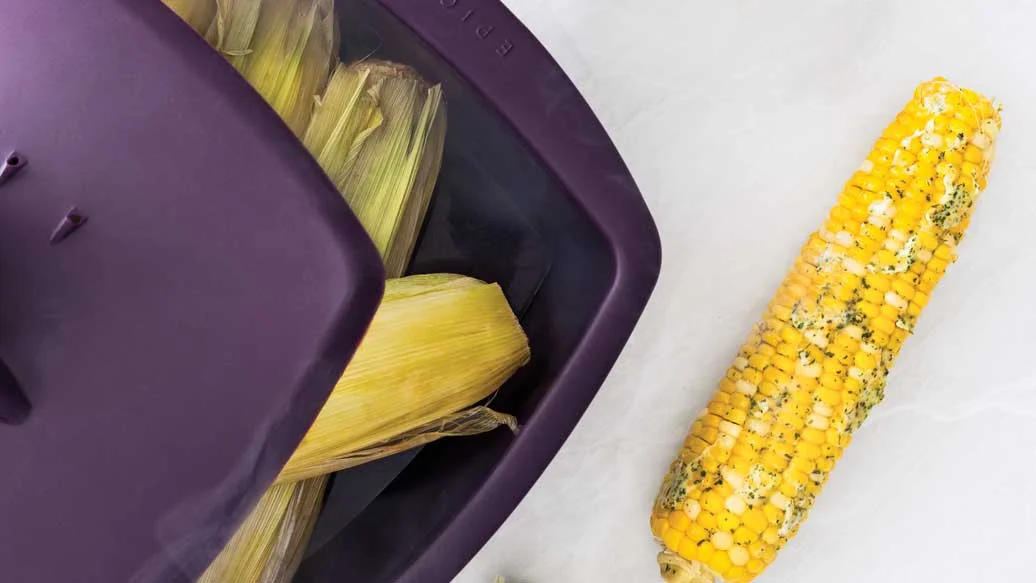 10 min
4 servings
$1.25/serving
Thanks to the innovative Multipurpose Steamer, simply microwave fresh corn, in the husk – no shucking or boiling water required! Once cooked, the husk and silk threads will easily slide off. Serve with warm butter, and a sprinkling of your favourite seasoning (we love Cheesy Fries or Cajun Fries Seasoning) and you'll be able to enjoy corn on the cobb, all summerlong. Thank you, Dana Kayal, for this amazing hack!
Ingredients
4 small corn cobs, unshucked
Toppings (optional): Melted butter, favourite Epicure dip mix or seasoning
Preparation
Cut off and discard stem ends from corn. Leave silky tassels at the top end.
Place cobs in the Multipurpose Steamer. Cover; microwave on high for 5 min.
Using oven mitts, gently grip tip of corn with one hand and squeeze. It will cleanly pop out of husks, leaving the sticky, silky threads behind.
Nutritional Information
Per serving (1 corn cob): Calories 60, Fat 1 g (Saturated 0.1 g, Trans 0 g), Cholesterol 0 mg, Sodium 10 mg, Carbohydrate 14 g (Fibre 2 g, Sugars 2 g), Protein 2 g.
Tips
Melt 1⁄4 cup butter or coconut oil with 1 tsp SPG Seasoning. Brush over steamed corn.