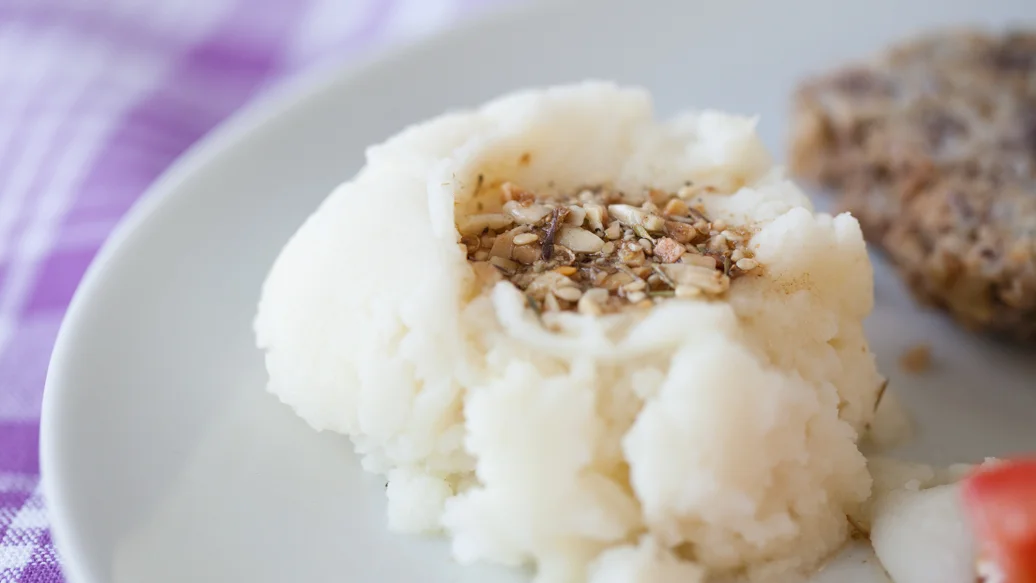 30 min
4 - 6 servings
$0.40/serving
Creamy mashed potatoes with a novel nutty crunch. The texture and flavour of Dukkah lends an exotic yum factor that everyone will love!
Ingredients
1 lb (450 g) potatoes, peeled and quartered
2⁄3 cup skim milk
2 tbsp olive oil
1⁄2 cup Dukkah, prepared
Preparation
In a Multipurpose Pot, boil potatoes until tender. Drain and return to pot. Cover, and set aside.
In a saucepan or in a Prep Bowl, mix milk with Herb & Garlic Dip Mix. Heat or microwave on medium for 2 minutes.
In a large bowl, mash or whip potatoes until lump-free. Add milk mixture and olive oil, and stir until smooth. Sprinkle with prepared Dukkah, and serve.
Nutritional Information
Per serving: Calories 160, Fat 8 g (Saturated 1 g, Trans 0 g), Cholesterol 0 mg, Sodium 210 mg, Carbohydrate 19 g (Fibre 3 g, Sugars 3 g), Protein 4 g.