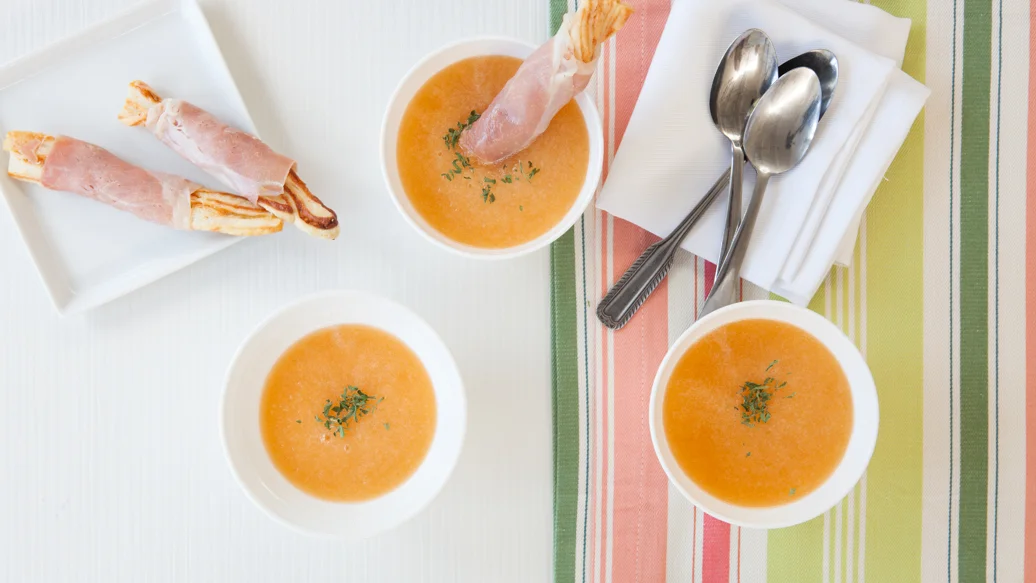 10 min
4 - 6 servings
$0.60/serving
Ingredients
1 cantaloupe, peeled and chopped
1 cup Beaumes de Venise, Pineau des Charentes, or Muscat
1⁄2 lemon, juiced
dried parsley, to taste
Molto Bene Sauce, or your choice, to taste, optional
Preparation
In a blender, blend cantaloupe with Beaumes de Venise, lemon juice, Broth Mix, Salt, and Pepper. For a finer consistency, strain through a fine mesh sieve. Stir in more Beaumes or water to adjust texture, if you wish.
Refrigerate until well chilled.
Ladle into bowls and garnish with parsley and Sauce.
Nutritional Information
Per serving: Calories 40, Fat 0.1 g (Saturated 0 g, Trans 0 g), Cholesterol 0 mg, Sodium 15 mg, Carbohydrate 6 g (Fibre 1 g, Sugars 6 g), Protein 1 g.
Tips
Beaumes de Venise is a fortified sweet wine from the Rhone region in France.