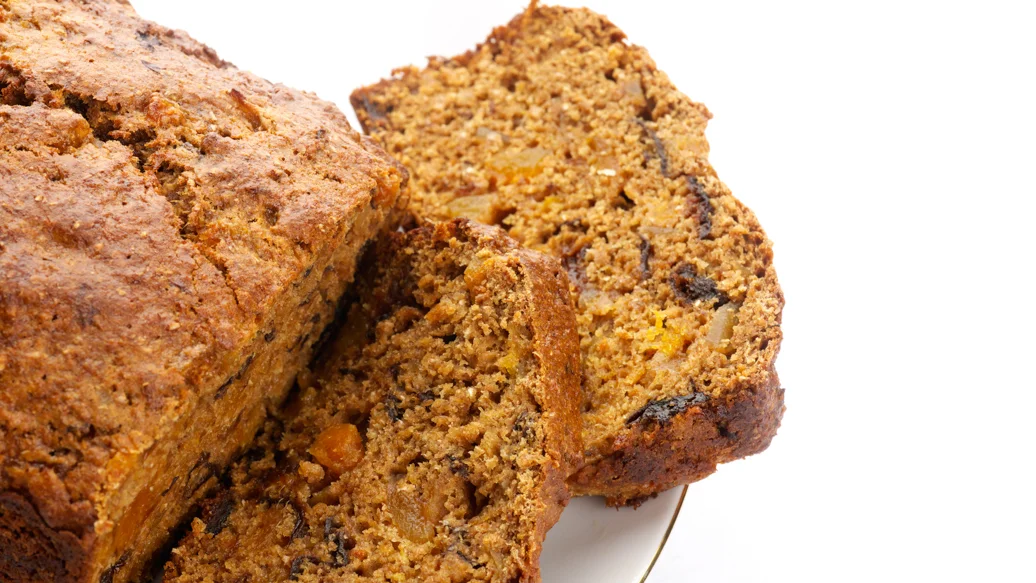 1 hour & 20 min
12 slices
$0.30/serving
Perfectly Balance Your Plate
For a healthy breakfast, have a slice of this excellent fibre source with 1⁄2 cup of your favourite low-fat yogurt and fresh fruit.
Ingredients
1 3⁄4 cups whole-wheat flour
1⁄3 cup bran
3 tbsp brown sugar
1 tbsp baking powder
1⁄4 cup walnut crumbs
6 dried apricot halves
8 dried dates, chopped
1 large egg, beaten
1 ripe banana, mashed
1 cup low-fat milk
1 cup unsweetened applesauce
1 tsp vanilla extract
Preparation
Preheat oven to 350° F (175° C).
Lightly grease loaf pan.
In large mixing bowl combine first 8 ingredients.
In second bowl, whisk egg, banana, milk, applesauce and vanilla extract.
Mix wet and dry ingredients until just combined. Spoon into loaf pan.
Bake for 50 minutes to 1 hour, or until a toothpick inserted in centre comes out clean.
Cool for 10 minutes before removing from pan. Cool to room temperature on cooling rack.
Nutritional Information
Per serving (1 slice): Calories 150, Fat 2.5 g (Saturated 0.5 g, Trans 0 g), Cholesterol 20 mg, Sodium 85 mg, Carbohydrate 20 g (Fibre 4 g, Sugars 11 g), Protein 4 g.