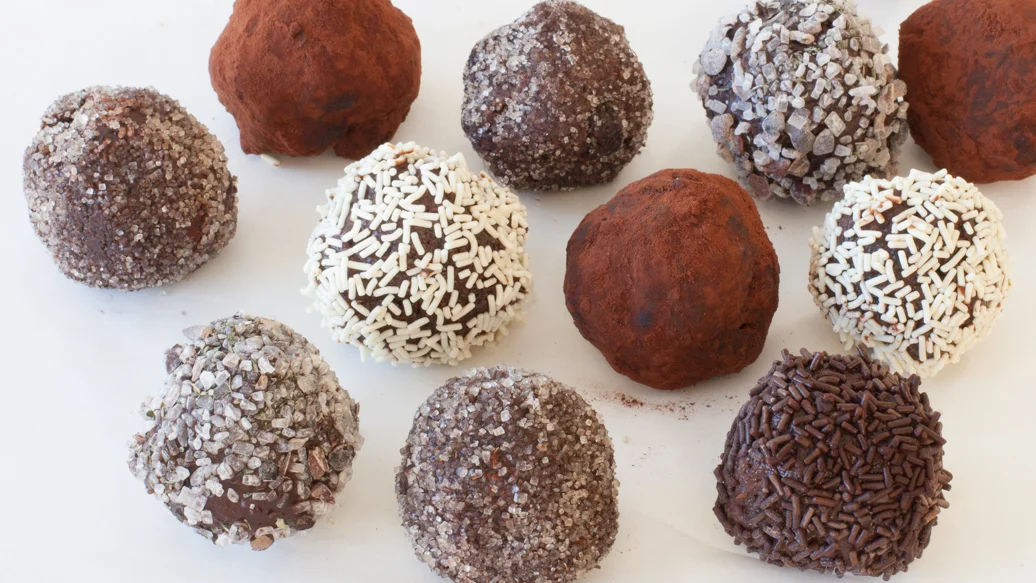 10 min
20 balls
$0.23/serving
Ingredients
3⁄4 cup raisins
1 cup boiling water
1 1⁄2 cups almond flour
1 cup shredded coconut
1⁄4 cup almond butter
1⁄4 cup cane syrup or corn syrup
2 tbsp cocoa powder
2 tbsp After Ate tea leaves, or mint leaves
1 tsp vanilla extract
1 cup chocolate, melted
chocolate sprinkles
Preparation
Soak raisins in boiling water until softened. Drain well and discard water.
In a mixing bowl, combine raisins with all remaining ingredients except chocolate and sprinkles.
Using your hands, roll the mixture into 20 balls.
Roll each ball in the melted chocolate and then in the chocolate sprinkles.
Store in an airtight container in your fridge or freezer before serving.
Nutritional Information
Per serving (1 ball): Calories 130, Fat 9 g (Saturated 3 g, Trans 0 g), Cholesterol 0 mg, Sodium 15 mg, Carbohydrate 11 g (Fibre 2 g, Sugars 7 g), Protein 3 g.