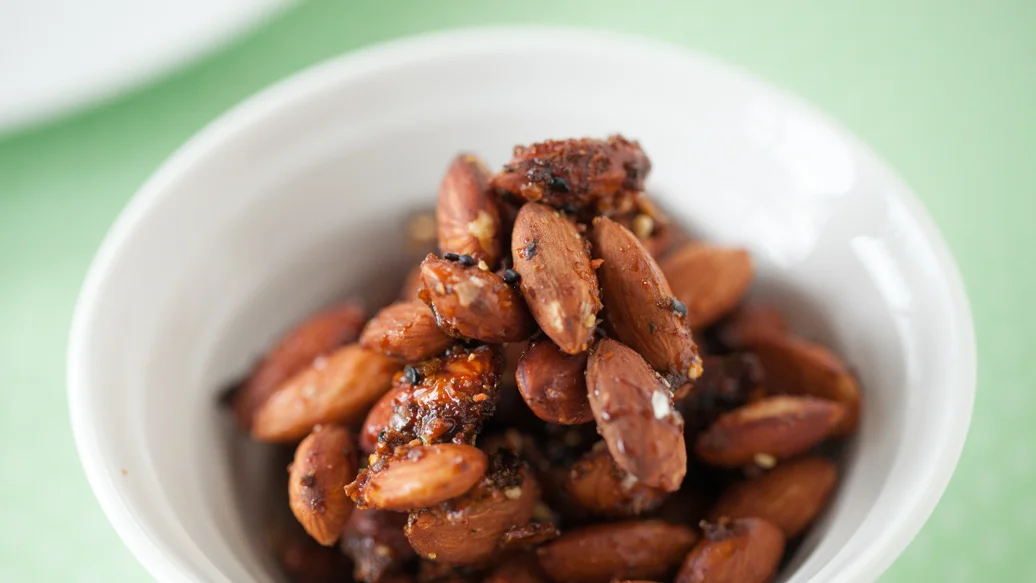 25 min
12 - 16 servings
$0.75/serving
Epicure's Dip Mixes are so versatile. Besides great dips, they're made to use anywhere an interesting blend of spices is needed, from roasts to grills and more. We love 3 Onion Dip Mix blended with honey and a little spice to glaze roasted almonds.
Ingredients
2 tbsp honey
2 tbsp vegetable oil
1 tbsp sugar
3 cups whole almonds, skin on
2 tsp Sesame Crunch Topper
Preparation
Preheat oven to 350° F (175° C).
Line Sheet Pan with Sheet Pan Liner.
In a large bowl, stir together 3 Onion Dip Mix with honey, oil, and sugar.
Add almonds and stir to mix as best you can. It's okay of there are clumps. Spread mixture out on Sheet Pan Liner.
Roast, stirring often, until nuts are toasted and glazed, approximately 15 minutes.
Remove, season with Sesame Crunch Topper and Sea Salt, and let cool completely. Stir occasionally when cooling to prevent sticking.
Nutritional Information
Per serving: Calories 220, Fat 19 g (Saturated 1.5 g, Trans 0 g), Cholesterol 0 mg, Sodium 5 mg, Carbohydrate 10 g (Fibre 3 g, Sugars 5 g), Protein 7 g.