Tex-Mex Stuffed Caesar Spears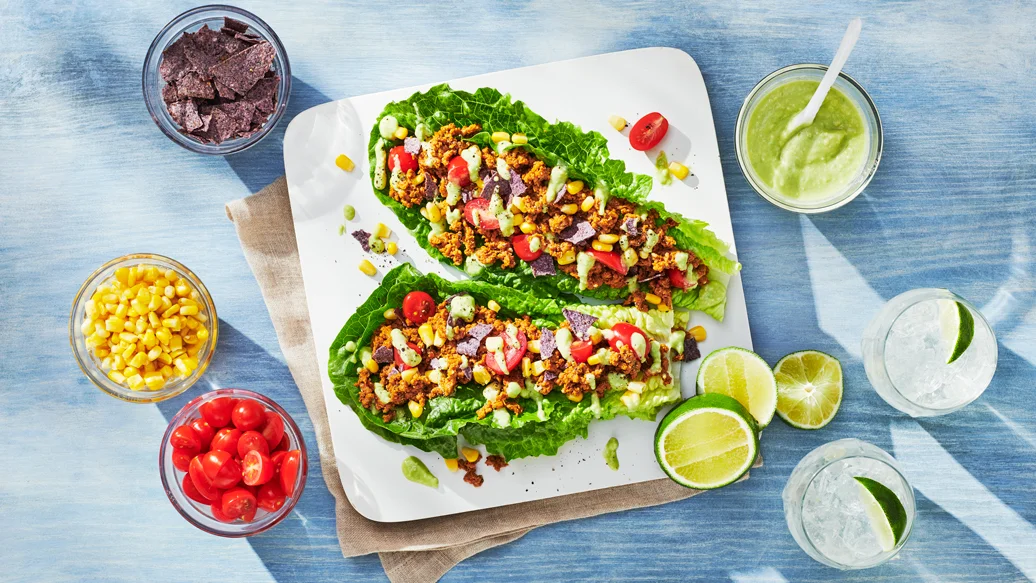 20 min
4 servings
$3.53/serving
Taco and Caesar salad flavours unite to make this fresh and light summer-inspired vegan meal.
Perfectly Balance Your Plate
This is a perfectly balanced plate.
Ingredients
1 pkg Easy Peasy Taco Mix
2 cups hot water
1⁄2 large avocado
5 tbsp water
1 tbsp lemon juice
1 clove garlic
1 tsp Dijon mustard
Sea Salt, to taste
Black Pepper, to taste
3 tbsp olive oil
1⁄2 pint cherry tomatoes, about 10
3 cups tortilla chips
2 heads romaine hearts
2 cups corn niblets
Toppings (optional): grated vegan cheese
Preparation
In a bowl, combine mix and hot water; set aside to hydrate, about 5 min. 
Meanwhile, in a food processor or using an immersion blender, combine avocado, water, lemon juice, garlic, and mustard. Blend until smooth. Taste, then season with salt and pepper. Set aside.  
In a large non-stick fry pan, heat oil over medium-high heat.  
Add hydrated taco mix; cook, stirring often, until liquid has absorbed, about 5–7 min. Stir gently to avoid mashing.  
Slice tomatoes in half; coarsely crush chips.  
To assemble, divide lettuce leaves between four plates (about 6 leaves per plate). For each serving, stack a few leaves to make sturdy bases. Stuff with taco mix; top with tomatoes, chips, and corn. Drizzle with dressing. 
Nutritional Information
Per serving: Calories 450, Fat 20 g (Saturated 3 g, Trans 0 g), Cholesterol 0 mg, Sodium 550 mg, Carbohydrate 43 g (Fiber 12 g, Sugars 8 g), Protein 26 g.
Tips
Look for romaine hearts in the bagged salad section of the produce aisle. The leaves are crisp and sweet, perfect for stuffing!