Raspberry Lime Cheesecake Pops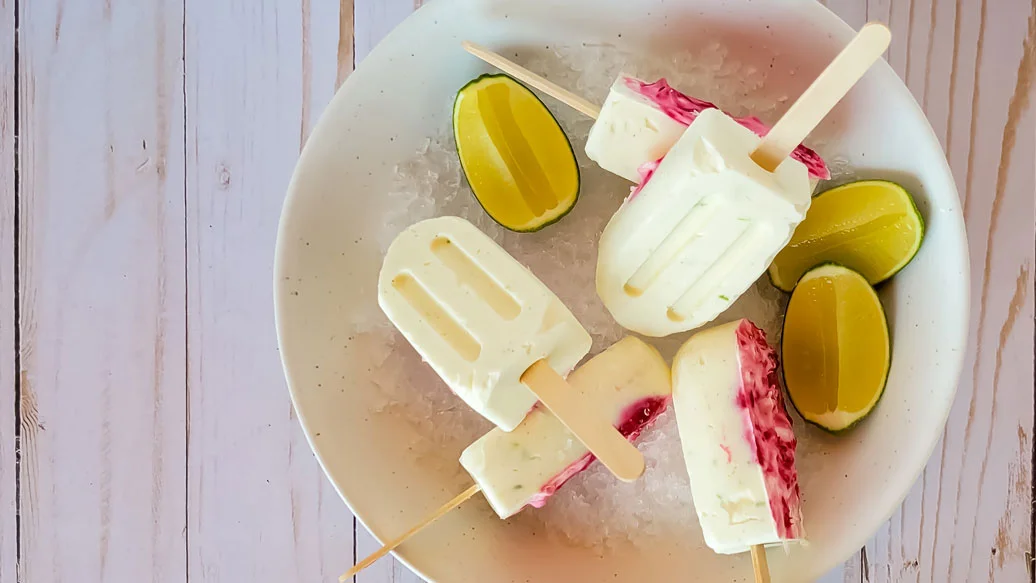 15 min + 2 hr freezing
12 servings
$0.95/serving
Summer just got a whole lot cooler with these cheesecake pops. Creamy, sweet & a little tart, these homemade popsicles are the perfect way to chill out on a hot summer day. Swap out raspberries with your choice of fruit, like strawberries, blueberries, or blackberries. 
Ingredients
1⁄2 cup frozen raspberries
1 box (8 oz/226 g) cream cheese, room temperature
1 lime
1 1⁄2 cups plain Greek yogurt, room temperature
Preparation
Place raspberries with 1 tbsp of cheesecake mix in a Prep Bowl and microwave on high for 30 seconds. Stir and set aside in fridge.
Place cream cheese in a stand mixer and whisk until it starts to get fluffy. Add remaining cheesecake mix and the zest and juice of the lime. Combine.
Add Greek yogurt and whisk until smooth and forming soft peaks.
Scoop mix into 2 oz silicone cake pop molds. Add a small scoop of prepared raspberry mix to the top of each pop and swirl in with a spoon. Place popsicle sticks in the molds and freeze for at least 2 hr, or overnight.
Pop out and enjoy!
Nutritional Information
Per serving: Calories 130, Fat 7 g (Saturated 4.5 g, Trans 0.1 g), Cholesterol 20 mg, Sodium 85 mg, Carbohydrate 13 g (Fiber 0 g, Sugars 10 g), Protein 4 g.