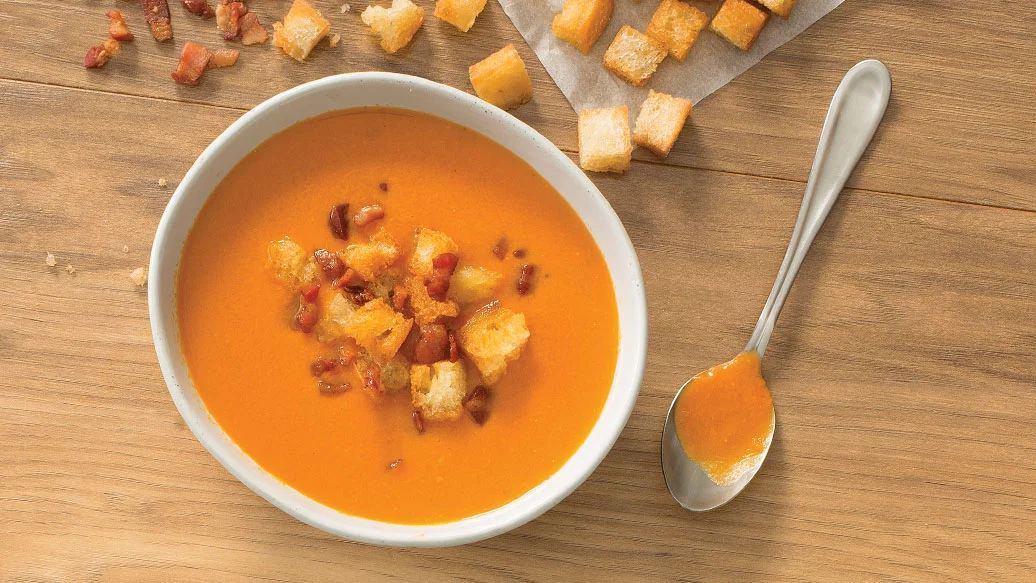 1 hour
10 servings
$0.49/serving
Perfectly Balance Your Plate
Serve with 1 slice whole wheat or sourdough bread with 1 tbsp butter or 2 tbsp avocado. Add a boiled egg in your soup to up your protein.
Ingredients
2 1⁄2 lbs plum tomatoes, about 12, quartered
1 red onion, thinly sliced
2 tbsp each olive oil and balsamic vinegar
1⁄2 tsp Sea Salt, finely ground
1⁄2 tsp Black Pepper, finely ground
1⁄2 cup Greek yogurt
3 - 4 tbsp milk or water
Preparation
Preheat oven to 425° F. Line a Sheet Pan with a Sheet Pan Liner.
Place tomatoes and onion in a bowl; drizzle with 3 tbsp seasoning, oil, vinegar, salt, and pepper. Toss to mix; spread out on Sheet Pan Liner.
Bake until tomatoes are soft, juicy, and starting to burst, about 30 min.
Scrape mixture into a Multipurpose Pot; add broth. Bring to a boil; reduce heat and simmer for 10 min to let flavours blend. Working in batches, purée in a blender until smooth. Return soup to pot; stir in remaining 2 tbsp dip mix. Reheat over medium-high, stirring often, until warm. If making ahead, refrigerate up to 3 days or portion and freeze up to 3 months.
To serve, stir yogurt with aioli mix and milk. Spoon soup into bowls and top with a swirl of yogurt mixture. Top with Better Than Bacon Topper , if desired.
Nutritional Information
Per serving (1 cup): Calories 50, Fat 3 g (Saturated 0.5 g, Trans 0 g), Cholesterol 0 mg, Sodium 160 mg, Carbohydrate 4 g (Fiber 1 g, Sugars 2 g), Protein 2 g.