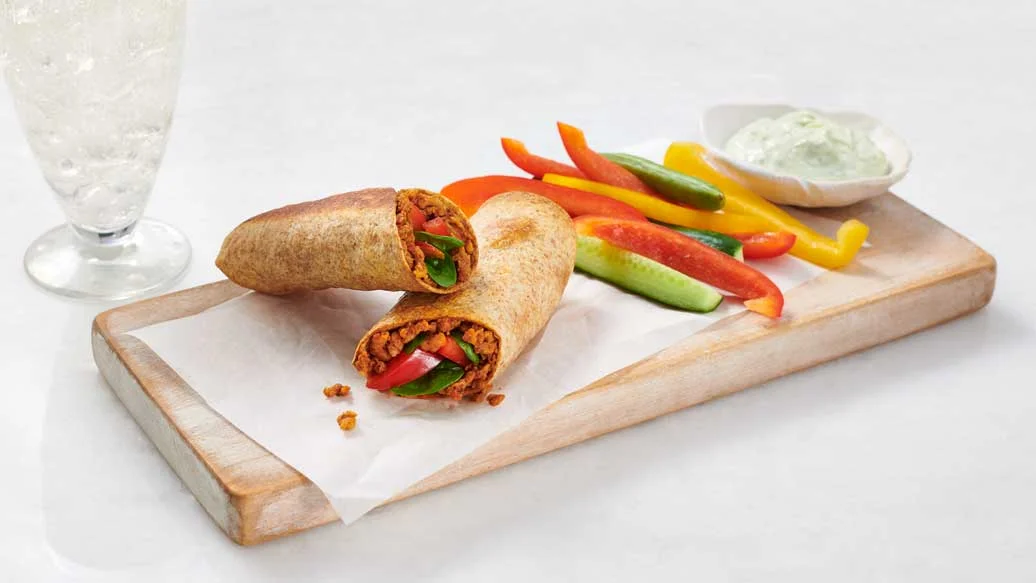 20 min
4 servings
$3.56/serving
Perfectly Balance Your Plate
Serve with 1 cup sliced veggies, your choice.
Ingredients
1 pkg Easy Peasy Taco Mix
2 cups hot water
1 large bell pepper
1⁄2 avocado
1⁄2 cup 2% plain Greek yogurt
1 lime, optional
3 tbsp olive oil
4 medium-sized whole-wheat tortillas
2 cups baby spinach
Preparation
Preheat oven to 350° F. Line Sheet Pan with Sheet Pan Liner.
In a bowl, combine mix and water; set aside to hydrate, about 5 min.
Meanwhile, slice pepper. In a small bowl, mash avocado. Stir in yogurt. Using 2-in-1 Citrus Press, squeeze in juice from 1⁄2 lime, if using.
In a sauté pan or large non-stick fry pan, heat oil over medium-high heat. Add hydrated mix; cook, stirring often, until liquid has been absorbed, about 5–7 min. Stir gently to avoid mashing. Squeeze in juice from 1⁄2 lime, if using.
Spoon mixture on bottom third of the tortillas. Top with peppers and spinach. For each wrap, fold two sides of wrap over filling, then roll up tightly, ending seam-side down.
Place wraps on pan, seam-side down, and bake 5 min to heat through. Serve with avocado-yogurt sauce for dipping.
Nutritional Information
Per serving: Calories 410, Fat 18 g (Saturated 3 g, Trans 0 g), Cholesterol 0 mg, Sodium 550 mg, Carbohydrate 38 g (Fiber 10 g, Sugars 5 g), Protein 28 g.
Tips
Brush a little oil on each wrap and bake 10 min for a golden-coloured wrap.