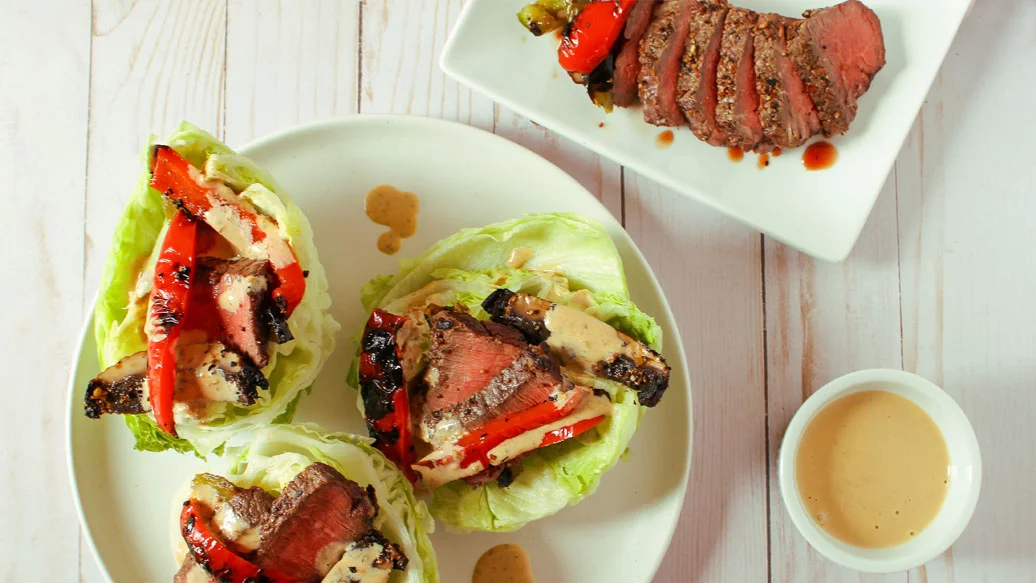 5 min
4 servings
$4.22/serving
"Lettuce" let you in on a little secret. You can transform your leftover grilling into something fresh and new with a snap of your fingers! Lettuce wraps are a light and easy, gluten-free summer dish that can also be served as a crisp and crunchy appy! But let's not forget about the star of the show, Teppanyaki Sauce, with its savoury, umami flavours and hints of garlic, miso and ginger. Yum! 
Perfectly Balance Your Plate
Serve with 1⁄2 cup cooked rice. 
Ingredients
2 tbsp Teppanyaki Sauce Mix or Maple Miso Marinade Mix
1⁄3 cup mayonnaise
1 tbsp water
2 tsp rice vinegar
1 tsp sesame oil
3⁄4 lb (340 g) sirloin steak, grilled
2 bell peppers, grilled
1 Portobello mushroom, grilled
1 head iceberg lettuce
Preparation
In a bowl, combine sauce mix, mayonnaise, water, vinegar, and oil. Set aside.  
Thinly slice grilled steak intro strips against the grain. Slice grilled peppers and mushroom.  
Chop iceberg lettuce lengthwise into four wedges, cutting through the root. Cut away any remaining pieces of root and pull away a few of the smaller inner leaves to make a well. 
Fill wedges with steak and veggies and drizzle with reserved sauce.  
Nutritional Information
Per serving: Calories 310, Fat 20 g (Saturated 4 g, Trans 0 g), Cholesterol 65 mg, Sodium 270 mg, Carbohydrate 10 g (Fiber 3 g, Sugars 5 g), Protein 24 g.
Tips
Try this recipe with whatever grilled leftovers you might have on hand, such as chicken or prawns, zucchini or eggplant. There's no wrong answer here! Thin Roasted Garlic or Chipotle Aioli with a splash of milk and swap for Teppanyaki Sauce.