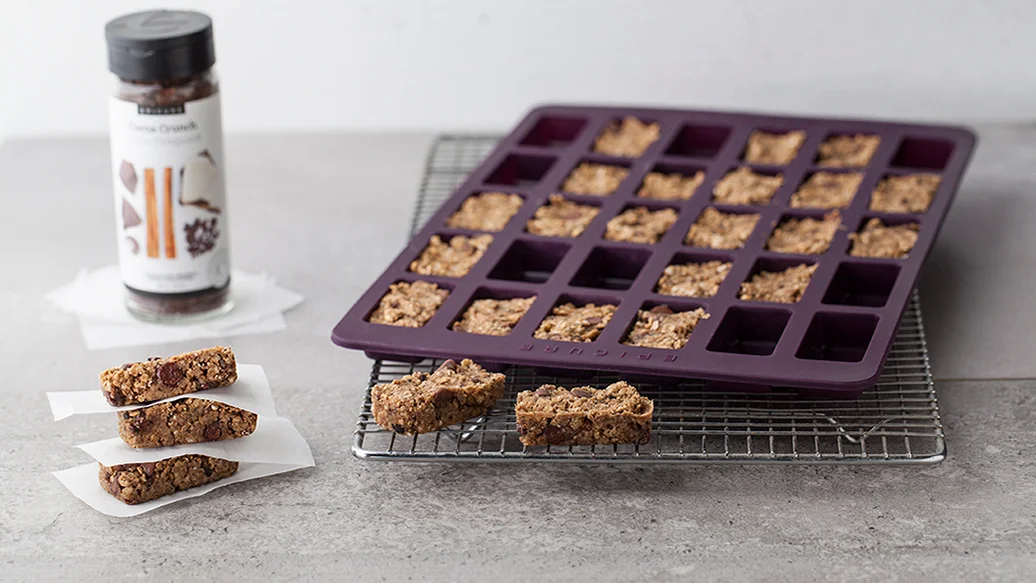 22 - 25 min
30 bars
$0.80/serving
Tastes just like store bought, only they are better for you.
Ingredients
2 1⁄2 cups quick oats
2 tbsp Cocoa Crunch Whole Food Topper
1⁄4 tbsp salt
2⁄3 cup unsweetened almond milk
1⁄4 cup natural nut butter
1⁄4 cup maple syrup
1 tsp vanilla extract
1⁄3 cup mini vegan chocolate chips, optional
Preparation
Preheat oven to 375° F (190° C).
Place a Perfect Petites mold on a Sheet Pan. Using a basting brush, lightly brush with oil.
In a large mixing bowl, combine first five ingredients. Set aside.
In a medium bowl, combine almond milk, nut butter, maple syrup, and vanilla. Mix until fully combined.
Fold dry mix into wet mix and stir until fully incorporated. Fold in chocolate chips, if desired.
Divide batter by heaping tablespoonful among petite molds. Press and bake 12–15 minutes. When cool to the touch, flip Perfect Petites mold onto Baking Sheet and twist to pop out bars.
Nutritional Information
Per serving (2 bars): Calories 120, Fat 4 g (Saturated 1 g, Trans 0 g), Cholesterol 0 mg, Sodium 40 mg, Carbohydrate 16 g (Fibre 3 g, Sugars 5 g), Protein 6 g.