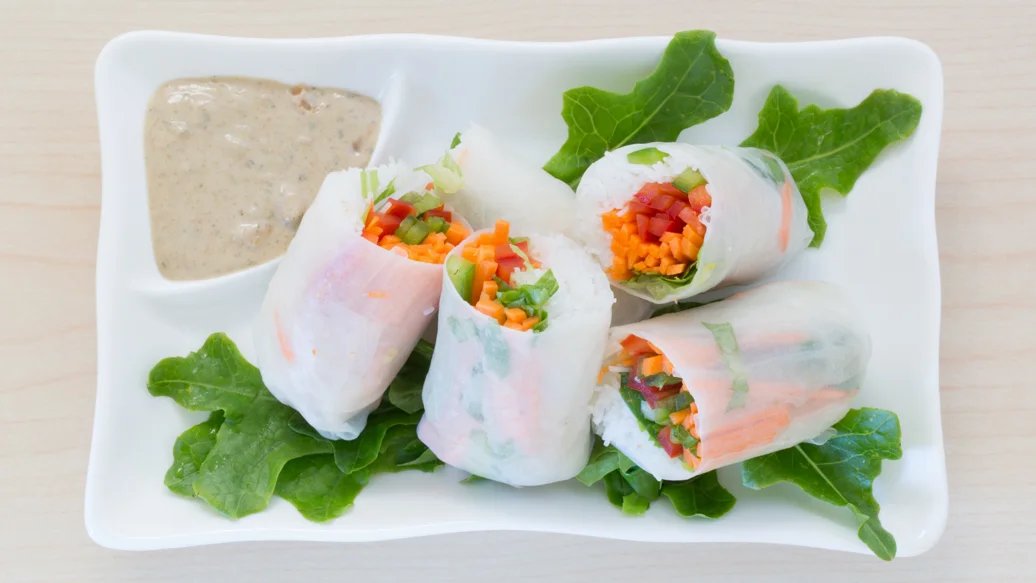 18 min
4 large or 8 small rolls
$2.35/serving
A great light lunch, appetizer, or snack on the go. Traditionally dipped in Satay Sauce, or Ultimate Asian Sauce and eaten whole.
Perfectly Balance Your Plate
Serve with 1⁄2 cup mixed veggies and 2 tsp Epicure dip.
Ingredients
1 pkg (1⁄4 lb/115 g) rice vermicelli
1 pkg (1⁄2 lb/225 g) rice paper rounds
1⁄2 tsp Curry Seasoning
1 carrot, peeled and julienned (matchsticks)
3⁄4 lb (340 g) cooked chopped chicken, or shrimp
2 bell peppers, julienned
2 cups mixed greens
Preparation
Add rice vermicelli to Multipurpose Pot of boiling water and cook according to package directions, approximately 3 minutes.
Drain, rinse under cold water, and drain again. Set aside.
Soak rice paper rounds one at a time in a large bowl of water until limp but not soggy. Shake off excess water and lay on a clean countertop.
Combine curry seasoning with dressing. Set aside.
To assemble each roll, spoon 1 tbsp dressing just off centre (towards bottom) and spread side to side.
Arrange 1⁄3 cup vermicelli on top of dressing, side to side. Top with 2–3 strips each of carrot, both peppers, chicken or shrimp, and greens.
Fold bottom end over filling, to the middle. Fold in sides. Roll up from the folded bottom end. Place rolls seam-side down on cutting board or serving platter.
Nutritional Information
Per serving: Calories 440, Fat 9 g (Saturated 1.5 g, Trans 0 g), Cholesterol 30 mg, Sodium 710 mg, Carbohydrate 93 g (Fibre 2 g, Sugars 2 g), Protein 22 g.
Tips
Make it vegetarian: Swap chicken for tofu.