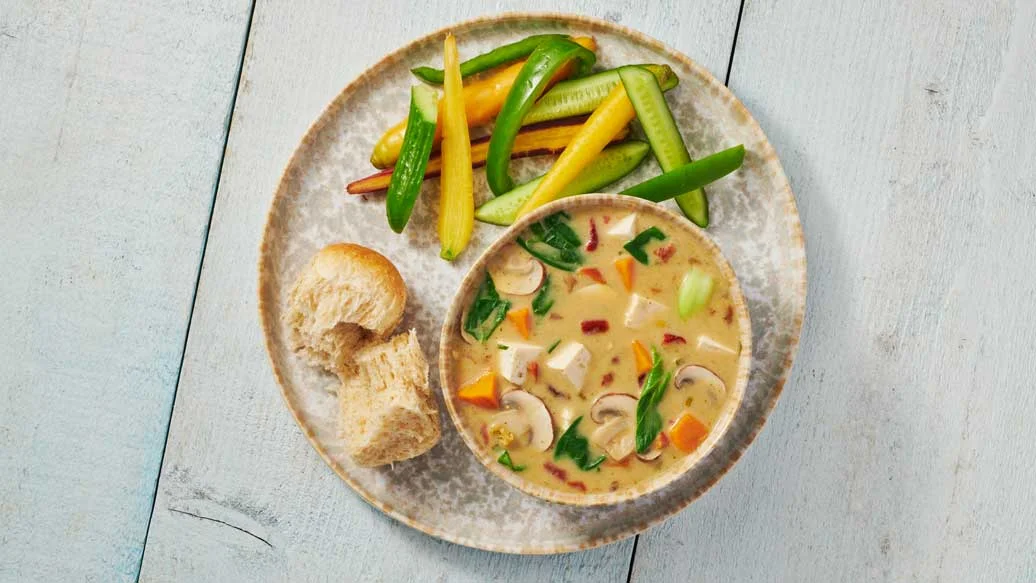 20 min
6 cups for 4 servings
$3.31/serving
Perfectly Balance Your Plate
Serve with 1 cup sliced vegetables and 1 small wholegrain bun.
Ingredients
1 large sweet potato
1 pkg Thai Coconut Soup Seasoning
2 cups hot water
1 can (14 oz/398 ml) coconut milk
2 heads baby bok choy
1 block (454 g) medium-firm tofu
1 cup sliced mushrooms
1⁄2 lime, optional
Preparation
Dice sweet potato into small cubes, you should have about 2 cups. Place in Round or Multipurpose Steamer; cover, microwave on high 6 min, or until tender.
Meanwhile, in Wok, combine seasoning, hot water, and coconut milk. Cover; bring to a boil over high heat. Reduce heat to a simmer.
Meanwhile, coarsely chop bok choy, you should have about 2 cups. Drain tofu, measure out 1 1⁄2 cups. Save remainder for use at a later date.
Add bok choy, tofu, mushrooms, and sweet potato to wok. Simmer for 1 min.
Using 2-in-1 Citrus Press, squeeze in juice from lime, if desired.
Nutritional Information
Per serving (about 1 1/2 cups): Calories 340, Fat 19 g (Saturated 13 g, Trans 0 g), Cholesterol 0 mg, Sodium 340 mg, Carbohydrate 30 g (Fibre 6 g, Sugars 10 g), Protein 16 g.
Tips
To lower the amount of saturated fat in the recipe, simply use light coconut milk.
Swap tofu with cooked chicken or shrimp.
For a protein boost, add leftover tofu to your morning smoothie—you won't even taste it!