Tangy Winter Squash and Bean Chili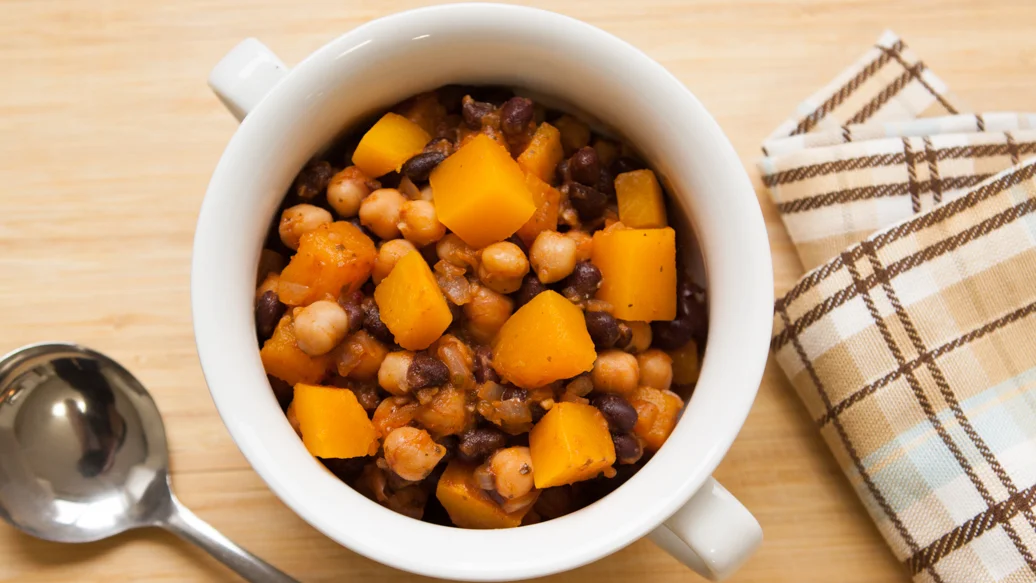 40 - 55 min
4 servings
$1.55/serving
A hearty veggie twist on a comforting favourite.
Ingredients
2 tsp vegetable oil
1 onion, diced
2 cups peeled, seeded and diced acorn or butternut squash
1 can (14 oz /398 ml) black beans, drained and rinsed
1 can (14 oz /398 ml) garbanzo beans, drained and rinsed
1 cup tomato juice
1⁄4 cup orange juice
1⁄4 tsp chipotle chili, or to taste
Preparation
Heat Multipurpose Pot to medium; add vegetable oil and sauté onion and Minced Garlic until soft, about 4 minutes.
Add squash and cook a further 5 minutes, stirring regularly.
Add beans and Salsa Mix. Stir in tomato and orange juice and bring to a gentle simmer.
Reduce heat to low, add chipotle chili and simmer for 15–20 minutes, or until flavours are combined and squash is tender. Season with Sea Salt and Black Pepper before serving.
Nutritional Information
Per serving: Calories 320, Fat 4.5 g (Saturated 0.5 g, Trans 0 g), Cholesterol 0 mg, Sodium 870 mg, Carbohydrate 59 g (Fibre 13 g, Sugars 7 g), Protein 14 g.