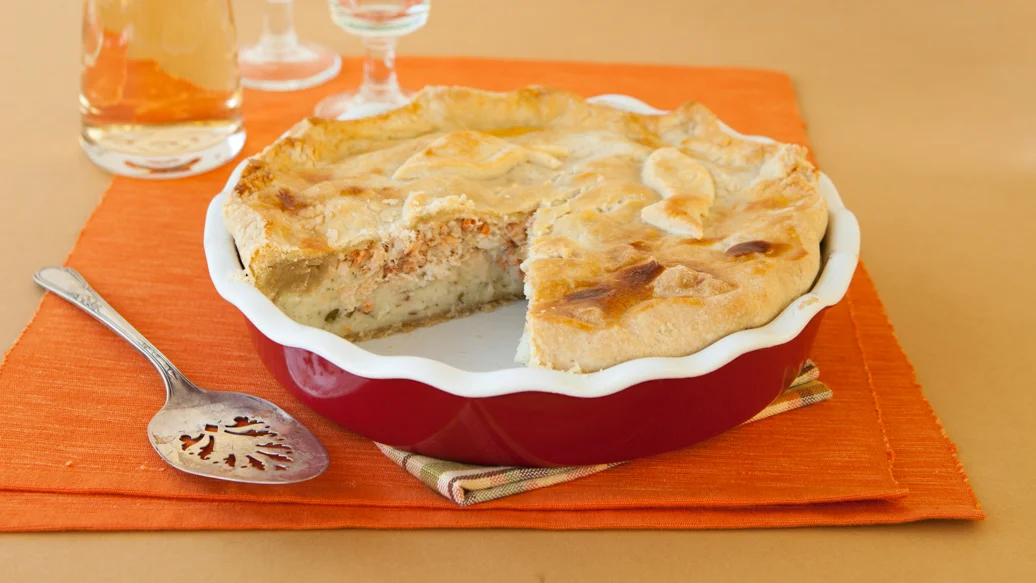 1 hour
6 servings
$1.07/serving
This favourite fall dish is warm, healthy, and easy to make – simply use frozen pie shells for the top and bottom crusts, and leftover mashed potatoes.
Ingredients
2 frozen pie shells (9"), thawed
3 cups mashed potatoes
2 cans (7.5 oz/213 g) salmon, skin and bones removed
1 egg, beaten
Preparation
Preheat oven to 400° F (205° C).
Place one pie shell on Epicure's parchment-lined Sheet Pan or gently press pie shell into a pie dish. Set aside.
Combine potatoes, 3 Onion Dip Mix and Lemon Dilly Dip Mix in a mixing bowl. Season with Sea Salt and Black Pepper. Fold in salmon.
Spoon into pie shell. Brush outside edge of pie shell with egg using a basting brush. Invert second pie shell overtop. Press pie shell edges together, and brush top with egg. Poke a few holes with a fork to let steam escape.
Bake 15 minutes. Reduce temperature to 350° F (175° C), and bake until golden.
Nutritional Information
Per serving: Calories 240, Fat 8 g (Saturated 2.5 g, Trans 0 g), Cholesterol 80 mg, Sodium 710 mg, Carbohydrate 23 g (Fibre 0 g, Sugars 0 g), Protein 18 g.